The Bermuda Telephone Company [BTC], launched its new fiber based network — called PRISM — which BTC said will "provide both the highest capacity on the island and the end-to-end Quality of Service performance necessary to ensure that one network can deliver a mix of voice, video, mobile, and data traffic along with mission critical business services."
BTC partnered with Cisco utilising its Carrier Ethernet System, including the Cisco ASR 9000 Series to support new and upgraded services on a common IP infrastructure.
The Cisco Carrier Ethernet System is a pre-tested end-to-end network solution for service providers, minimizing the amount of time and technical resources required to test, implement, and validate the performance of the network.
Bermuda Telephone will also leverage Cisco's Prime network management suite which will facilitate faster provisioning of customer services and reduce operational costs.
A statement from the Company said, "The PRISM network is a state of the art transport facility for data and voice communications. In the City of Hamilton it is a series of 5 fiber rings.
"This ring topology supports an automatic redirecting of information over to alternative routes should a break occur– this backup system is known as redundancy. Outside of Hamilton the fiber network extends to both ends of the island, although the ring structure is only in the City of Hamilton."
CEO of BTC Lloyd Fray [pictured below] said, "International business is a primary driver of Bermuda's economy, and reliable communications services play a vital role in that success. Many of the worlds most influential businesses call our shores home.
"As the islands largest communications provider, BTC is proud to be able to meet their needs. Our continued investment in local infrastructure tells the world that Bermuda is open for business and infinitely well equipped to service them."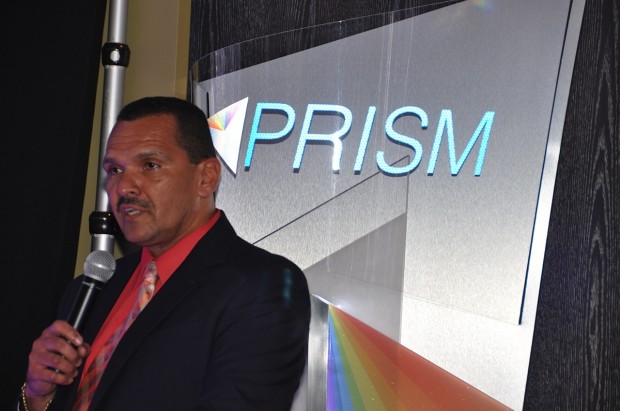 Mr. Fray continued, "PRISM is not only a secure, reliable platform for Hamilton businesses but also supports those challenged with multiple locations through the island, as the network extends to both the Eastern and Western ends of the island.
"Both the services and pricing of PRISM are highly scalable and will provide businesses of varying size and communications requirements with solutions that will assist them in making their day-to-day operations more efficient.
"The resulting partnership between BTC, Bermuda's premier communications provider and Cisco, the world's leading networking equipment vendor has resulted in the island's most robust, furthest reaching network," concluded Mr Fray.
Greg Skinner, Caribbean Area Manager, Cisco Systems, said, "We're delighted that a Cisco Carrier Ethernet solution was selected by Bermuda Telephone Company for their new PRISM network.
"The new network will provide the foundation for highly available voice, video, data, and collaboration services both for BTC's international business customers and local residents alike."
Read More About
Category: All, Business, technology