Students in the Lower Primary Department at Saltus Grammar School are taking learning into their own hands—literally. The school has launched a pilot iPad programme for its youngest students, becoming the first Bermuda school to do so.
"This initiative is in keeping with Saltus's vision to be at the forefront of technology integration in the classroom—it is about how to improve student learning," says Headmaster Ted Staunton, noting recent research indicates elementary-age students score better on literacy tests after iPad learning than students not exposed to tablet technology. "We expect to see high levels of student motivation, engagement and learning."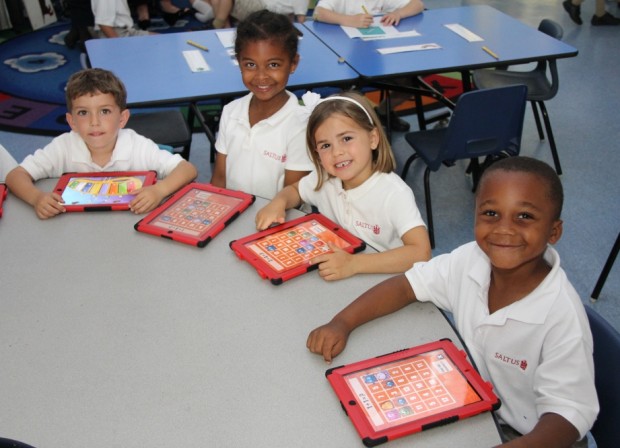 Starting this week, students aged four to seven, in Foundation Year through S2 at the school's Lower Primary "Cavendish" Department in Devonshire, will use Apple iPad2s to reinforce the three "Rs"—reading, writing and arithmetic—as well as to learn non-traditional skills such as problem-solving, collaboration and using a variety of multimedia content. The programme aims to revolutionise the way its teachers and students interact in the classroom using the latest technologies.
"I believe we are the first school in Bermuda to bring iPads into the classroom, and we're proud of that," says Shelly Sayers, Director of the Lower Primary Department, who, with Saltus's Director of IT, Trudy Bucher, has spent the past 15 months researching and preparing for the pilot programme's launch.
"We strive to be a technology-rich school, and laptops, computer labs, SMART Boards, netbooks and wireless access are the norm at Saltus," she says. "Adding iPads to this equation keeps us on the cutting edge and provides hands-on technology for our youngest students.
"The iPad is a tool that greatly enhances educational technology and allows for easy collaboration among teachers and students. It really seemed like something that could integrate seamlessly into the learning experience for the children."
Saltus teachers are excited about the potential of a device that's small, flexible, portable, visual and hands-on, especially when working with younger students. "We felt the iPad was a tool, which, because of its visual and hands-on design, would really be a natural fit for our youngest learners," says Mrs. Sayers.
"We spent quite a bit of time preparing for this, but we had to get it right," says Mrs. Bucher. "From installing wireless access points into all classrooms, to finding a local vendor that would provide on-Island support, to researching logistics of how to manage synching and charging, to finding the proper cases.
"From a technological standpoint, the introduction of iPads was a nobrainer, with no boot-up time, long battery life, no malware, free apps, and relatively low maintenance."
Saltus purchased the iPads from A.F. Smith, an Apple Authorized Reseller in Bermuda. The company's Apple specialist, Kenneth Pemberton, was on site to provide teachers with professional development during the rollout process. The school will conduct a pilot programme this term to allow teachers to become familiar with iPads. More research will be conducted on curriculum-enhancing apps prior to the next academic year.
"We must applaud Saltus for being pioneers for considering the value of moving to an iPadbased platform," says Tim Smith, CEO at A.F. Smith. "During the pilot phase, we are confident the feedback will be positive. We have certainly enjoyed working with the Saltus team thus far and look forward to helping them meet their learning objectives."
Since it was first launched in 2010, the Apple tablet has been incorporated into classrooms across North America and Europe.
Read More About
Category: All, News, technology