Total visitor arrivals to Bermuda for the first quarter of 2012 increased nearly 9% compared to the same quarter in 2011, according to statistics released by Government today [June 3].
A total of 34,571 visited the island in the first three months of the year, up from 31,779 visitors. Air arrivals for the first quarter totaled 31,619, representing an increase of 2.6% from the 30,824 visitors in the first quarter of 2011.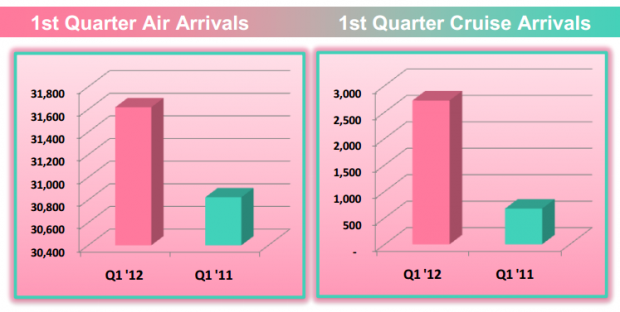 The report said, "While the United States remains the islands strongest market at 63%, visitation from the Canadian region continues to increase its market share representing 23% of all visitor arrivals to the island during this period and increase of two percentage points over the previous year.
"This rise in market share represents an increase of almost 13% in visitors from the Canadian region. Visitors from the Rest of the World also showed an increase moving up 7% compared to 2011, while the United States market remained constant and UK and Europe showed declines of 4% and 10%.
"The first quarter is traditionally not an active period for the cruise visitor as the island usually receives a few smaller ships in the month of March, however, an additional two ships during this period led to a 303% increase in cruise arrivals with a total of 2,719 visitors cruising to the island during this period. Yacht arrivals saw 204 yachtsmen sail to the island for the first quarter, down 17% compared to the same quarter in 2011."
The full 13-page report is below [PDF here] click 'Fullscreen' for greater clarity:
Related Posts