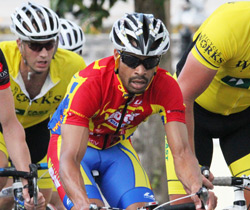 With May 24th champion Dominique Mayho not in field, Mark Hatherley took advantage and rode to victory in the Bermuda Bicycle Association's Road Race on the Police Club Track yesterday [June 3].
Hatherley recorded a time of 1:59:45, with Shannon Lawrence finishing second clocking 1:59:50 and Mark Godfrey finished third in 1:59:51. Alan Mooney was clocked across the line in a time of 1:59:54 finishing 4th and Ian Port finished fifth clocking 1:59:55.
The Men's Adult B race saw Johan Viver edged out a win with a time of 1:25:23, Daniel Oatley finished second clocking 1:25:27 and Dennis Joell finished third in 1:25:28.
The Adult C Class winner was Clive Hook who broke the tape in a time of 56:01, McQuinn Burch finished second recording a time of 56:06.275 and Edwin Jordan finished third clocking 56:06.933.
In the Women's Open Division, Gabby Arnold finished first with a time of 59:08, Wenda Roberts finished second clocking 59:23 and Heather Cooper finished third in 59:31. Kalaeb Tannock won the Junior A Class with a time of 1:06:03 and Caleb Simmons finished second clocking 1:06:06.
Zion Dowling rode to victory in the Junior B Class clocking 27:51.578, Robin Horsefield finished second in 27:51.827 and Alyssa Rowse finished third in 28:02.976. Tao Lambert won the Junior C Class with time of 16:56.095, while Benjamin Edwards finished second clocking 16:58.921 and Christian Roque finished third in a time of 17:17.258.
Read More About