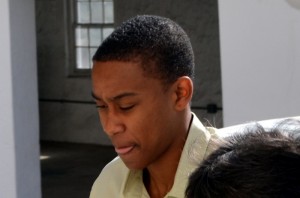 [Updated] A 21-year-old man is alleged to have opened fire at a Mount Hill home then stolen a motocross bike and led police on a high speed chase to Somerset, a Supreme Court jury heard this morning [June 14].
Gariko Benjamin denies the charges which include unlawful possession of a firearm; unlawful discharge of a firearm; taking a motorcycle without the owner's permission and threatening behaviour to Police.
The prosecutor told the jury that Mr Benjamin rode into the Mount Hill/Overview Lane area of Pembroke, where it is alleged he fired shots at the home of two brother [Sadune and Jahfari Raynor]. The defendant was alleged to have arrived on a dark motorcycle with another person, both wearing dark clothes and dark full face visors.
After the shooting, the defendant is alleged to have stolen a blue motocross bike and speed away in a westerly direction with the police in pursuit.
During the police chase, Mr Benjamin is alleged to have refused to stop, been doing "wheelies", and was said by a police officer to have been doing speeds exceeding 100km/h.
Update 8.32pm: Mr Benjamin broke down in tears when he was arrested, a Supreme Court jury heard this afternoon.
Two police officers gave evidence this afternoon with both saying that said that they heard Mr Benjamin say: "You guys think that you can what you like because you've got a gun. You're not the only ones with a gun."
Both said that the defendant had patted his right side while saying that. Responding to Crown Prosecutor Garrett Byrne, the first police witness said that she had felt threatened by Mr Benjamin's words.
The second police witness said that once Mr Benjamin had been arrested for using threatening words and after he had been handcuffed, Mr Benjamin had tears running down his face and had said: "Call my Daddy."
The second police witness testified that at the time of arrest, police had taken possession of Mr Benjamin's Blackberry cellphone. This witness said that police had listened to voice messages that were on it.
One message was played back to the jury who were told that this message had been sent around the time that police were first coming onto the grounds of Mr Benjamin's residence.
This message was: "Yo bra… I'm home… They're all over my f—king yard… So much of 'em running up and down…"
Defence lawyer Charles Richardson closely cross-examined the second police officer after determining that according to her written statement, the Blackberry cellphone had been confiscated on 25th January 2012, but had not been listened to until 12th June 2012.
Mr Richardson also closely cross-examined each police witness on the fact that each had first written their statements and had then made personal 'notes'. Mr Richardson averred that this was the reverse of commonly accepted or best or recommended practice.
The shooting Mr Benjamin is charged with occurred at around 10:30am on January 25th 2012 in the Mount Hill/ Overview Hill area in Pembroke. He denies all charges, and the trial continues.
Related Posts
Category: All, Court Reports, Crime, News