[Written by John Rousmaniere] As of 6pm today [June 17] six boats have finished the Newport to Bermuda Race, each of them breaking an elapsed time course record. In finishing order, they are Rambler (Class 10), Bella Mente (Class 10), Shockwave (Class 10), Team Tiburon (Class 10), Med Spirit (Class 16), and Kodiak (Class 8).
Shockwave and Kodiak are the current corrected time leaders in the Gibbs Hill Lighthouse Division and St. David's Lighthouse Division, respectively. Med Spirit is the current corrected time leader in the Open Division.
Med Spirit is pictured below in a photo by Daniel Forster/PPL: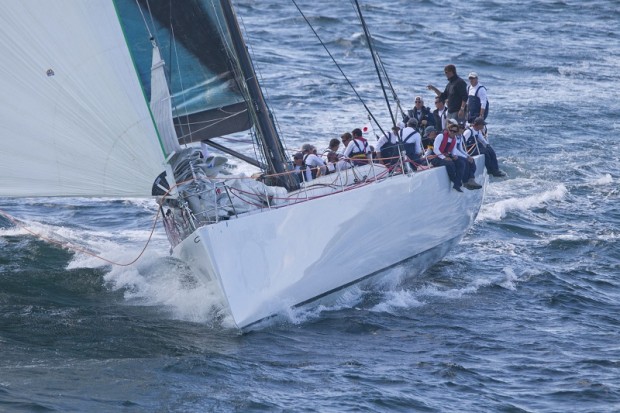 First to finish Rambler, a 90-foot Reichel/Pugh sloop owned by George David (Hartford, Conn.), broke the course record decisively, averaging 16.06 knots down the 635-mle course in a time of 39 hours, 39 minutes, 18 seconds.
She clipped 9 hours off the previous course record set in 2004 by Morning Glory, which averaged 13.06 knots for Open Division boats and 14 hours from the 'Official' Record. Med Spirit set the new Open Division record of 45 hours, 26 minutes, 28 minutes… three hours faster than the previous record.
Sailors had vivid descriptions of high-speed, extremely rough conditions on the long, fast reach that prevailed from start to finish. Scott King, Team Tiburon, reported that after starting under a spinnaker, once the boat cleared the Narragansett Bay entrance buoys the crew set a double-headsail rig with a topsail over a jib. They then took in and shook out reefs in the mainsail as the conditions warranted, with one or two sailors always working the mainsheet.
The slideshow below contains over 150 photos, by Talbot Wilson, of the start of the race:
Team Tiburon sailed Wizard a 74-foot sloop designed by Reichel/Pugh and chartered by Mark E. Watson III, a Bermuda business CEO. They covered 385 miles in her first 24 hours in the race, averaging almost 17 knots. "She felt slow when the speed dropped to 11," King said. "I've been in boats where 11 knots was not even part of the plan."
King said the water was always rough, with some waves 8 feet or higher and water constantly on deck, pushing sailors around. The Gulf Stream crossing was not as rough as he expected, he said, but it was spectacularly beautiful.
"Just before we entered the Stream we saw a long streak of phosphorescence in the water, as though a full moon was out and shining right down on it." The phosphorescence disappeared when the boat charged into the main body of the Gulf Stream, but reappeared. "Dolphins were torpedoing through all this, right in front of us," King said.
As they neared Bermuda on Sunday morning, Team Tiburon sailed into a series of rain-squalls with stronger winds that pushed the boat to over 20 knots as she crossed the finish line off St. David's Head.
Read More About