Yesterday afternoon [June 21] the graduates of the National Training Board's Certificate in Basic Horticulture Programme were recognized at a ceremony held at the Bermuda College.
The pilot programme commenced with 16 participants, and 13 of the participants reached their goal of becoming proficient Landscape Gardeners.
They graduates are Billy Brooks,Keavin Caines, Odell Furbert, Akeem Ible, Richard Kitson, Dominique Lambert, Juan Looby, John Lynch-Wade, Charmaine Smith, Michael Smith, Davano Spencer, Ryan Terceira, and Tir-Rel Woodley.
Minister Minors and the graduates of the Horticultural Certificate programme are pictured below with [front row] Dr. Duranda Greene, Bermuda College President, Pandora Glasford, Executive Director of the National Training Board and Jeff Sousa of Sousa's Landscape Management.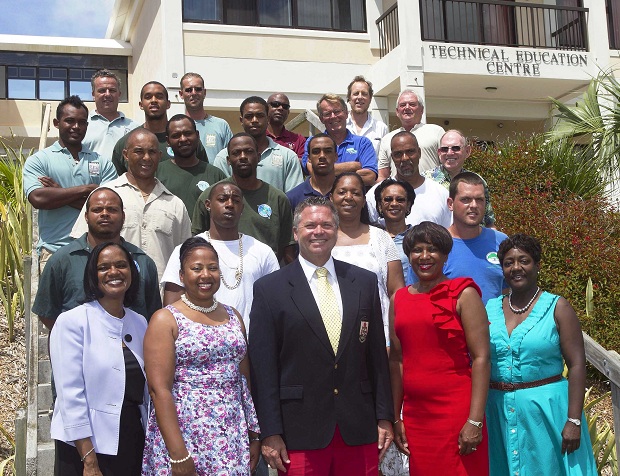 Minister of Economy, Trade and Industry Patrice Minors said, "The reality is that the Landscape Gardener represents one of the highest categories for work permit issuance requested by employers. You are aware that the Ministry recently lifted the moratorium in the category of Landscape Gardener.
"After considering the need for business to remain viable in Bermuda it was determined that there remains a need for work permits, however this should not discourage Bermudians from pursuing careers in this field.
"We introduced this certificate programme as a way to solve our people's employment challenges by ensuring fair opportunities for Bermudians.
"Horticulture is a viable field of employment and we are encouraged by the level of interest that we have received from Bermudians seeking to enter this industry."
Related Posts
Category: All, Environment