[Updated - police release name] An 80-year-old male visitor from Florida was killed in a motorcycle accident in Warwick this morning [July 7], police have confirmed.
Emergency services responded to a report of a serious accident a few minutes before 10am in the South Road, Warwick area involving a rental cycle. Traffic is still being diverted from the area while police investigate the accident scene. Police confirmed the man's death, and released a few details and are expected to release a full official statement shortly.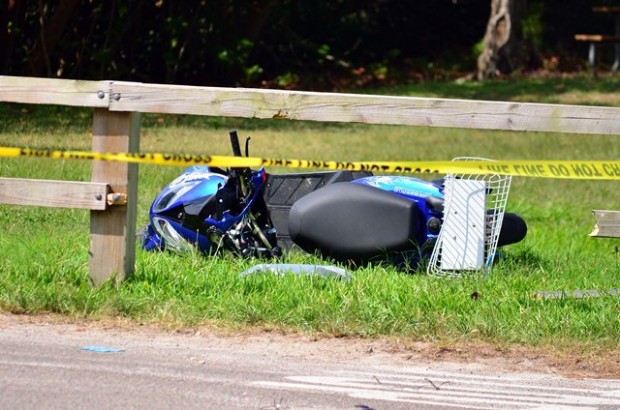 This is the fourth road traffic fatality this year, and the second in a week following after the death of 33-year-old German national and Bermuda resident Christoph Nagel following a motorcycle accident in Hamilton parish on on July 1st.
48-year-old Michael Lancelotta, a visitor from Rhode Island, was killed in a motorcycle accident in St George's on February 18, and 37-year-old Dr Joseph Footitt, a visitor from the UK, died following a motorcycle accident on Harbour Road on June 13.
Update 12.58pm: Police Media Manager Dwayne Caines said "First responders attended a road traffic collision that took place a few minutes after 10 this morning.
"It appears a 80 year old man on a livery cycle was traveling west on South Road in the area of South Shore Park in Warwick, when he lost control of his cycle and collided with a wooden railing.
"This resulted in the 80 year Tourist from Florida being taken to KEMH were he later succumbed to his injuries. No further information will be given until the next of kin has been notified."
Update July 8, 9.48pm: A police spokesperson said, "The Bermuda Police Service can now confirm the death of 80 year old Don Wildman of Florida U.S.A.
"Mr. Wildman, a visitor to the island, was seriously injured when the rental cycle he was riding collided with a wooden railing around 10am Saturday, July 7th along South Road in Warwick.
"He was taken to King Edward VII Memorial Hospital via ambulance but tragically was pronounced dead by an on call doctor at 10:25am Saturday.
"Inquiries into this fatal collision are ongoing. The Bermuda Police Service extends condolences to the family & friends of Mr. Wildman. The death of Don Wildman marks the fourth road fatality for 2012."
- Photo by Kenny Byron
Read More About
Category: Accidents and fires, All, News