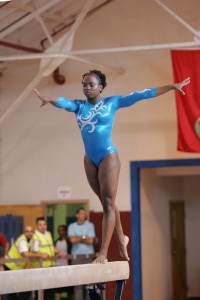 The Bermuda gymnasts returned from Ft. Lauderdale, Florida earlier this month after a strong showing at the 2012 USAIGC International Championships. The 30-gymnast squad was the largest ever for BGA, which has been participating in these Championships for over ten years, and each girl had to earn a qualifying score of 33.0 to participate.
Each level had two days of competition: a qualifying round in which only all-around awards were presented and then an exciting "event finals" competition for the top finishers in each age and level division. Bermuda was successful across all levels and returned many medals to the island.
The competition week got off to an exciting start for the BGA, with Gemma Lightbourne (15, Saltus) earning four gold medals in the rhythmic gymnastics competition. Lightbourne, a former member of the Scottish National Rhythmic team, was in a league of her own as she performed with the ribbon, ball, and the clubs and received near perfect scores in each event.
The excitement continued with the Platinum level competition, one of the highest levels in USAIGC. Morgan Beckles (17, BHS, pictured) had an awesome two days of competition, winning the all-around on day 1 with a 36.50 and in the event finals won the vaulting and floor gold medals, with a 9.35 and 9.4 respectively. Morgan Cleave (14, former BGA gymnast currently training in the UK) also qualified to all four event finals (her best finish on floor with an 8.7, 4th), and Tabytha Hofheins (14, Warwick Academy), qualified to represent Bermuda in the vaulting event final.
Just below the Platinum level was the Gold level, in which Bermuda had seven gymnasts: Sadia Wilson (11, BHS), Zantae Dill (13, Saltus), Sydney Mason (14, BHS), Danielle Wall (12, BHS), Clara James (12, BHS), Anna Francoeur (9, Warwick), and Tais Burgess-Allen (11, Clearwater). In a very competitive field, Bermuda had three event finalists: Wilson on vaulting after finishing first in preliminaries (9.0) and on floor (9.425, 4th), Mason on vaulting, beam, and floor after earning the team's top all-around mark (33. 625, 10th) and Dill on floor (9.075, 8th).
Next in the Silver level division were Tomei Talbot (11, Whitney Institute), Trinity Wilson (11, Warwick), Kanzi Emery (10, Francis Patton), Anah Lightbourne (10, Harrington Sound), Gianna Webbe (9, Warwick), Kinae Dowling (12, T.N. Tatum), and Maya Malpas (10, Saltus). Gemma Lightbourne also competed in the Silver level on the balance beam. Kinae Dowling earned her way to the vaulting event finals and finished 11th with an 8.25, and Tomei Talbot shined in the floor finals with a 9.25 for the bronze medal.
After silver was the Bronze level competition, in which Bermuda had four participants: Chantae Wilson (9, Warwick), Jasmine Simons (9, Somerset Primary), Sasha Crumley (11, St. George's Prep) and Logan Watson-Brown (9, Warwick). Wilson had a strong showing on day 1 and earned a spot in vaulting, beam, and floor finals, and went on to earn the bronze medal on beam (9.2) and the silver on floor (9.25). Watson-Brown also qualified to the vaulting finals and earned 7th place with an 8.7.
Finally, Bermuda had eight gymnasts in the copper level: Jezhari Talbot (8, Paget Primary), Yve Smith (8, West Pembroke), Sanaa Burgess (7, Harrington Sound), Daria Symonds (9, BHS), Emily Gentile (8, BHS), Attiyah Morris (9, Saltus), Brianna Ray (8, Saltus), and T'aja Williams (8,East End Primary). All of the girls performed extremely well in the very first off-island competition for the young squad, and Bermuda's top finish came from Sanaa Burgess who placed 5th in the all-around with a 34.575.
The Championships capped off the competitive season for Team Bermuda, who had traveled to Boston, Manhattan, Chicago, and Rhode Island for meets and had also hosted their very first invitational meet at the St. David's National Training Center in March. The girls are now in summer training and will return to competition in the fall.
Eleven of Bermuda's top gymnasts will travel to the University of Maryland next week to attend an intensive training camp with top collegiate coaches and gymnasts, and several of the younger athletes will be traveling to Woodward Camp in Pennsylvania in August.
The team is also currently fundraising to support a team to travel to South Africa in October to participate in an international event, the second USAIGC event to be held outside of the USA (Bermuda's International Challenge in March was the first). The Bermuda International Gymnastics Challenge will then return to St. Davids on January 12th, 2013.
Related Posts