The Waste and Litter Control Amendment Act 2011 will allow for a fine of up to $5,000 for a first offence of littering, with a subsequent offence carrying a penalty of $25,000 or imprisonment, Minister of Public Works Michael Weeks said.
The Minister was speaking at a press conference this morning [July 18] at Aeolia Drive — located off Palmetto Road in Devonshire — one of the Island's well known "hot spots" for illegal dumping.
Minister Weeks said: "The problem of litter and illegal dumping is all too common in Bermuda – just look behind me at this notorious dumping "hot spot", one of many across the island.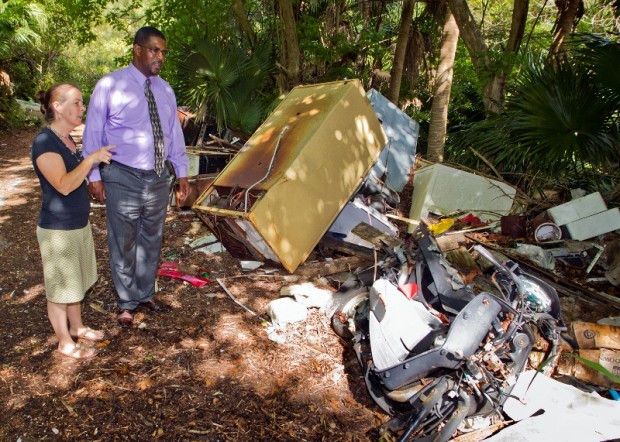 "Unsanitary conditions resulting from roadside littering and illegal dumping serve as a breeding ground for mosquitoes and the proliferation of vermin – including rats and feral chickens that feed off improperly handled waste materials.
"Not only is littering a public health issue, but it is a blot on the landscape of our island, tarnishing the beauty of this tourist destination which results in considerable cleanup costs for the Government and the private sector. Therefore, we are urging those guilty of these acts to think about their country first and end this practice once and for all!
"Keep Bermuda Beautiful (KBB) and the Waste Management section of the Ministry of Public Works facilitate the removal and clean up of litter and illicit dump sites, but this does not address the cause of the problem.
"In 2011, KBB supported clean-ups in 134 locations with volunteers giving 5,862 hours of their time cleaning up 35.5 tonnes of litter and illegally dumped items. This is time and energy that could have better utilized supporting different community causes.
"These willful acts of public neglect have been allowed to fester for too long as a consequence of public apathy, improperly placed household garbage, inadequate design of existing garbage and recycling areas at planned communities such as condominiums, fly-tipping by unscrupulous truck drivers, to the perception that littering provides employment for others.
"The Waste and Litter Control Act 1987 provided a mechanism for prosecuting littering and illegal dumping offences. However, this required a hearing in Magistrates' Court and adherence to strict rules of evidence which resulted in very few successful prosecutions.
"And when prosecutions were successful, substantial fines were rarely issued, despite the maximum fine of $1,000 for such offences. It would appear that enforcement of this legislation failed to serve as a deterrent.
"To address the enforcement challenge and ultimately change public behavior and attitudes towards littering and illegal dumping, the Government felt compelled to introduce the Waste and Litter Control Amendment Act 2011 (WALCAA).
"This legislation is line with other jurisdictions such as England and Wales where if waste items are registered to you or are addressed to you and are found outside of a mandated waste disposal area – you retain ownership and therefore responsible.
"With the new amendments, the Ministry of Public Works has created the same level of ownership of items by removing them the circumstantial nature of evidence in form of written correspondence and serial numbers.
"We have also included evidence obtained through the use of recording devices at dumping "hot spots" across the Island with reckless littering from motor vehicles, vessels, truck cabs or cargo loads now being classified as criminal offences.
"Furthermore, to safeguard members of the public from unscrupulous truckers, a waste handler's license number will be issued and must be shown to both customer and at waste disposal sites, preventing the practice of fly-tipping.
"It is envisioned that improved enforceability of WALCAA will result in better waste handling practices by members of the public and private waste haulers.
"Under this Act, an individual committing an offence of littering can receive a ticket for a first offence up to a maximum of $5,000 or imprisonment and a subsequent offence $25,000 or imprisonment.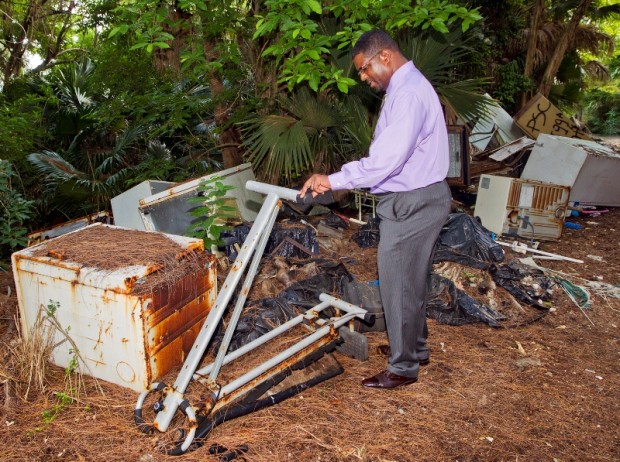 Minister Weeks continued: "However, I would like to make it clear that punitive action would be the last resort as we would simply like compliance with the legislation as well as our residents to take pride in their country by properly disposing their litter.
"When I was a student I could never figure out why my teachers would repeat lessons over and over again. And as I got older, it dawned on me that the more I heard the message; the more it stuck with me.
"So I would like to repeat one last time in closing by pleading for residents as well as public and private waste haulers to properly dispose of their waste and to remember that there are numerous options for the disposal of waste from hazardous waste, to E-waste, to horticultural and household items.
"Our Waste Management Section within the Ministry of Public remains committed to answering any questions about how and where the general public can dispose of waste in the proper manner," concluded Minister Weeks.
Related Posts
Category: All, Environment, News, Politics