Minister of Business Development and Tourism Wayne Furbert today [July 10] hailed the local production element of the Department of Tourism's new advertising campaign a great success.
Minister Furbert recently visited the set where the island's latest advertising campaign was being shot to meet the local models and the team from FuseIdeas advertising agency.
Following three local casting calls at the end of June attended by 150 people, approximately 14 Bermudian models ranging in age from 5 years old to 44 years old were chosen to appear in the new campaign.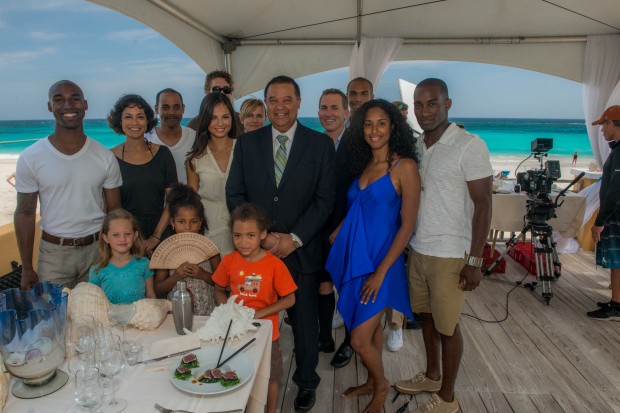 In addition, there are many more Bermudians involved through support and providing logistics to the FuseIdeas team. Look Bermuda was the chosen local production company and employed approximately 16 people to provide support. Also supporting the production are local hotels, taxi drivers, caterers, truckers, florists, restaurants, and the Gombeys.
Minister Furbert said: "When the Department was in the planning stages for this campaign one of our mandates was to involve as many locals as possible – not only models but also on the production side, transport and so on.
"Up to 40 locals were employed in some way for the production of the new ad campaign. Initial reports from the team are that during the weekend the weather cooperated and the shoot has been a great success."
Filming and photography for the new campaign concluded on Monday, July 9th and the campaign is expected to be launched in August.
Minister Furbert added: "I would like to thank all those who came out for the casting call and also those who worked so hard to ensure this production was a success. The team from BDOT and our local partners truly pulled out all the stops not only in hosting the FuseIdeas team but also in providing professional support."
Related Posts