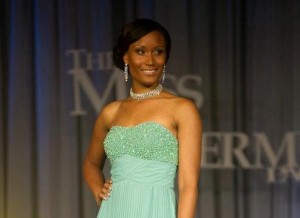 [Updated] Miss Bermuda Rochelle Minors continues to make a strong impact in the Miss World contest, having made the semi-finals of another portion — this time selected to go through to the semi-finals of the Top Model contest.
No stranger to the catwalk, Miss Minors is a well known model on the local scene having modeled in numerous fashion shows across the island since the age of 14.
She has walked the catwalk during London Fashion Week, served as a hair model for the renowned salon Vidal Sassoon and participated in Salon International.
In describing the Top Model portion, the Miss World organizers said: "As the music stated pumping, each contestant walked the length of the room towards the waiting judges, paused and struck a pose, and then held their number up so they could easily be identified.
"With every single contestant being so unique and fabulous in her own way, you could see how tough it was going to be to pick the models."
Miss Minors has already made the semi-finals of the talent portion, and is set to compete for the Miss World title in Inner Mongolia, China on August 18th.
Bermuda stands as one of only 11 countries [out of 121] to have our representative make the semi-finals of both preliminary contests held so far.
Update 12.58pm: Miss World has today eliminated 10 more contestants from the model portion – however Miss Bermuda was not one of them – and is still in and will appear in the Top Model Catwalk Show.
Related Posts
Category: All, Entertainment, News, Style & Beauty