Members of the LF Wade International Airport community and corporate sponsors, including Horsfield Landscape and Design Ltd, recently gathered by a new seating area near the arrivals area to plant an endemic Bermuda palmetto.
Airport General Manager Aaron Adderley ceremoniously planted the palm supervised by Kevin Horsfield of Horsfield Landscape and Design Ltd. The tree will grow to provide a natural shelter over the seating area enabling the public to enjoy the views of Castle Harbour.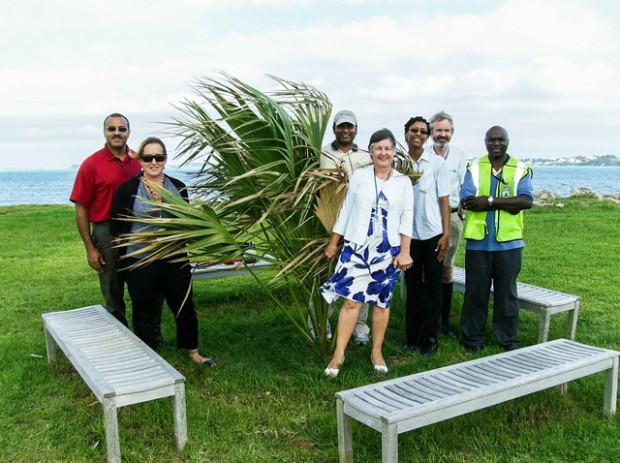 Mr. Adderley thanked the donors for stepping forward to contribute to the Airport's Green Workplace Award efforts. He said: "The Airport has recently joined the Bermuda Environmental Alliance and established a Green Team.
"As a result of the commitment of our staff and the successes to date in the Airport Operations offices, this initiative is expanding airport wide and commenced with a pilot TAG recycling project in May. We are informed that our office paper recycling project has saved two trees already and here is one replacement!"
Kevin Horsfield added: "Several years ago my company replanted along and around Cahow Way after the devastation of Hurricane Fabian. It is gratifying to see that the palm trees have flourished along the median.
"The Airport provides the first lush impression of our sub tropical island and Horsfield Landscape and Design Ltd is proud to add this endemic Bermuda palmetto in celebration of the Airport Green Team's efforts."
Related Posts
Category: All, Environment