The Progressive Labour Party invites the residents of Constituency 30, Southampton East Central, to a community meeting "Addressing Area Concerns".
This meeting, to be held on Monday, July 23, 2012, at 7pm, at Vernon Temple A.M.E. Church, will feature the PLP candidate Mr. Stephen Todd.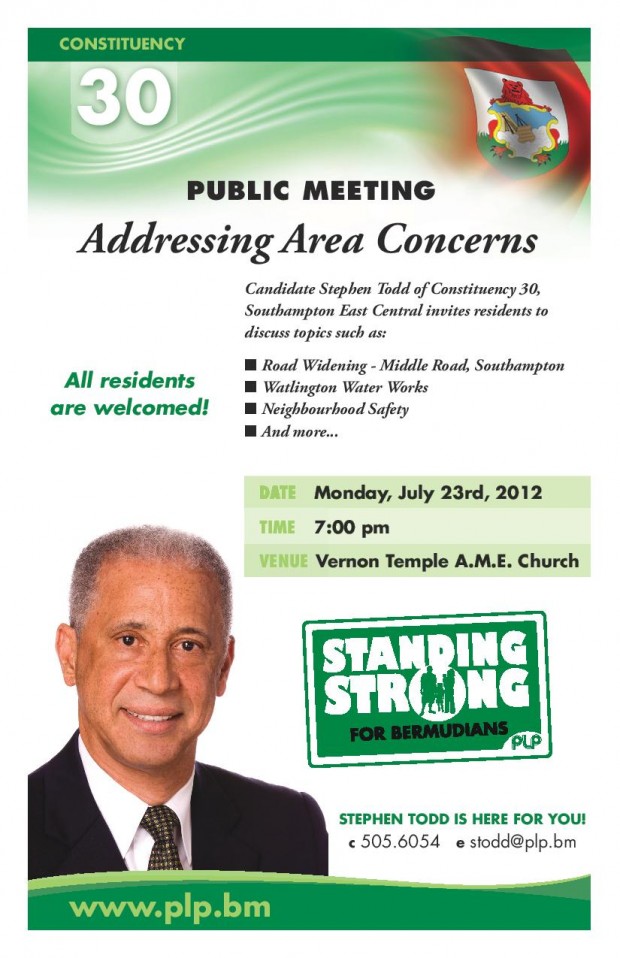 Mr. Todd notes "Over the past several months of canvassing, I have had the wonderful opportunity to meet with the residents of Southampton East Central in their homes and neighborhoods. During these visits, the residents have been frank and forthright in discussing their concerns and needs for this area.
"I am looking forward to this opportunity to have further discussions with a wider group of residents, and we will likely see that there is much overlap in what issues are affecting residents and how we can work together to achieve positive resolutions to them!"
A PLP spokesperson said: "Three such issues to note are the road widening of Middle Road, Southampton, access to Watlington Water Works services, and general neighborhood safety concerns.
"The Progressive Labour Party encourages residents of Constituency 30, and the wider Southampton community, to come out and visit with Mr. Stephen Todd on Monday night."
The Southampton East Central constituency is presently held by the PLP's Zane DeSilva, who won 52.2% [569-521] of the vote vs the incumbent David Dodwell of the UBP in the 2007 General Election. Mr Todd will be challenged by the One Bermuda Alliance's Leah Scott.
Related Posts
Category: All