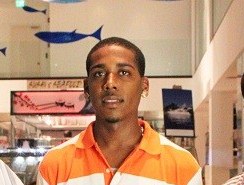 This morning [July 13] in the House of Assembly, politicians from both sides of the aisle paid tribute to Tumaini Steede, who passed away earlier this week following a road traffic accident.
The 22-year-old ranked as one of the island's top young footballers, and was a prolific Devonshire Cougars goal scorer as well as a Bermuda international.
In 2011 he received the Bermuda Football Association's Young Player of the Year award.
Minister Michael Weeks said: "I know his father Cyril – who most people know as Dago – and his mother Kenlene and his brother Moses. Tumaini came in in my home as a youngster…he and my son were very close, so they were back and forth.
"He was a very nice young man, and a promising young man, and we all thought that if anyone was going to become a professional footballer…Mr Steede was," said Minister Weeks.
Minister Patrice Minors also offered her condolences, as did Terry Lister, with both politicians saying it is a terrible thing to when a parent has to bury a child.
Minister Marc Bean also expressed his condolences to the family, calling Mr Steede an "exceptionally gifted footballer" who he thought would one day "assume the professional ranks of football."
Explaining her family connection to the Steedes, Pat Gordon Pamplin said she "hopes the family gets some comfort in knowing that they will be funeralizing on Sunday a wonderful young man who made positive contributions through his soccer prowess to our community as a member of our National Football Team. It is really quite a tragic loss."
Numerous other MPs from both sides of the aisle associated themselves with the remarks of condolences to Mr Steede's family.
Related Posts