The Ministry of Public Works today awarded an annual grant of $61,000 to Keep Bermuda Beautiful [KBB] to support programmes that reduce littering and illegal dumping.
The Minister of Public Works Michael Weeks presented a cheque to KBB Executive Director Ann Hyde at KBB's headquarters at Princess Street in Hamilton.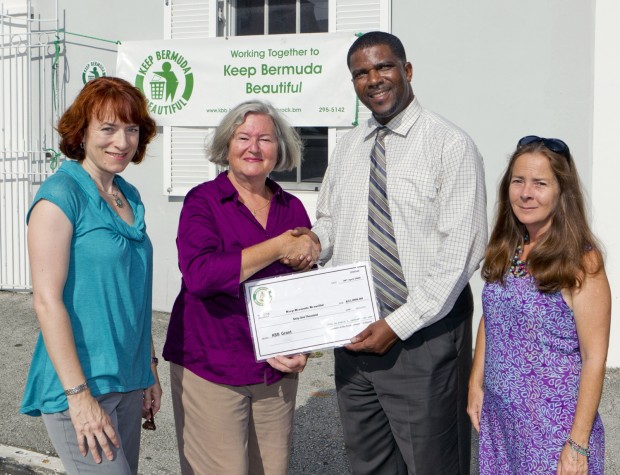 The Minister of Public Works said: "I would like to commend KBB for their continued commitment to keeping our environment clean and raising public awareness about the need to end the practice of littering both on land and at sea."
The Minister also stated that "The KBB works cooperatively with Waste Management, the Department of Parks and the Department of Conservation Services by encouraging proper waste and litter disposal as well as helping to keep our roadsides and parklands pristine and litter-free.
"KBB's army of volunteers augments the good work that these departments pursue in clean-up efforts. In 2011 the KBB made a significant impact by supporting clean-ups in 134 locations with volunteers collecting 35.5 tons of litter, recyclables and bulky waste."
The grant will go towards educating the community about the harmful effects of littering, cleaning up litter along the road sides as well as at illegal dumping sites, to making it more difficult to dump illegally.
The Minister said: "Our goal is to tackle litter and dumping hotspots with such clean-up activities and to encourage residents to take greater responsibility in disposing of their waste properly as well as protecting our Island's fragile environment."
Ms. Hyde commended the Minister by stating, "We value the close relationship we have had with the Ministry of Public Works over the years and we look forward to this continued collaboration to keep our island beautiful."
KBB launched an Adopt A Spot Programme at the end of May 2012 encouraging groups to take responsibility for keeping their locations clean and healthy. Over 40 spots have been adopted already by schools, companies, individuals and Neighbourhood Watch groups.
KBB's most recent project is the TRASH ART Show currently on display at the City Hall. KBB has also partnered with the Bermuda Society of Arts to put on an awareness-building art show about the plastic trash that is washing ashore in Bermuda.
Related Posts
Category: All, Environment