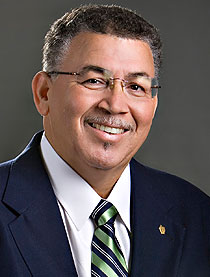 [Updated] Cayman Premier McKeeva Bush [pictured] wrote an 'open letter' to Premier Paula Cox where he said her behaviour is "downright antagonistic" and said that until now he had not rebutted or answered her back.
"The fact is, as Cayman's Premier I have never attacked, any other country, including Bermuda…" Premier Bush said.
The verbal exchange started last year when the Cayman Premier said: "They are still talking about their immigration policy and make long statements but I say this boldly – while Bermuda has been the champion, be assured that we can grow.
"We here can do it without the malice, without the inhibitions of race, without the inhibitions of transport," said Premier Bush.
Premier Bush said Cayman was actually taking action while Bermuda was only still talking about making changes. "In the mid Atlantic they say they 'may' reduce some fees; we have reduced fees."
The Cayman media also reported that he "taunted" Bermuda in a speech last year saying: "My rating is still AA3 rating – what is theirs?", a reference to the downgrade of Bermuda's sovereign credit rating last year to AA-.
Premier Cox responded at that time saying: "Bermuda is focused on extending its lead, while Cayman speaks about closing the gap. Our destination is far beyond our borders and we have the infrastructure and the talent to make it happen."
The verbal exchanges continued when it was revealed last month that the Cayman Islands will be introducing a 10% tax for foreign workers earning over $20,000 per year, which they have now switched to $36,000.
Premier Bush said it was a last resort, but he had no choice because the UK was demanding the Cayman have a sustainable budget.
In response to the news of the tax as well as statements made by Premier Bush, Premier Cox said, "This is not the first time that Cayman has made disparaging remarks about other jurisdictions in order to cover up the problems that he has had to address in his own Country."
In the 'open letter', which was dated August 2nd 2012, Premier Bush said: "I have every right to promote what is good about the Cayman Islands – even if you read into it, that it is something that is competitive to Bermuda. Cayman also has its competitors – but I don't attack their leaders."
The full letter from Premier Bush is below [PDF here]:
Dear Mrs. Cox,

I have lost track of how many occasions in recent times you have, in your capacity as Premier of Bermuda made attacks on me, as Cayman's Premier; but there have been several.

Until now, I have not spoken as Premier of the Cayman Islands to ever rebut or answer you back. I have never, but now I say, please; this must stop. As Cayman's Premier, I consider your statements, your behavior, as the Bermuda Premier – to be wholly unjustified, and downright antagonistic.

Paula Cox needs to concentrate on what can help Bermudans [sic] survive in these critical days, just as McKeeva Bush is trying to do for Caymanians!!!

The fact is, as Cayman's Premier I have never attacked, any other country, including Bermuda not even when its Premier consistently attacks me. I consider my relationships with all regional Territories to be highly amicable.

The Cayman Islands is open for business and as Premier I am busy trying to make life better for Caymanians and those who live and move and have their being here. The Cayman Islands do have problems, but my Government is busy working to lessen impacts on our people.

For example – there are:

3 New Hotels and 1 Golf Course currently being planned.
A medical tourism project breaks ground in late August.
Agreement with the Dart group of Companies will bring $1 ½ bn. of business in 5 years.2
An innovative – Enterprise City/Special Economic Zone is moving ahead quickly – which means new business is coming.

I have every right to promote what is good about the Cayman Islands – even if you read into it, that it is something that is competitive to Bermuda. Cayman also has its competitors – but I don't attack their leaders.

Hon. Paula Cox – the Cayman Premier is busy working. What are you doing for Bermuda?

My advice is you should stop attacking me and use your energy to move the good Islands of Bermuda forward

Hon. W. McKeeva Bush, OBE, JP
Premier, and
Minister of Finance, Tourism & Development
Update 4.00pm: UBP MP Kim Swan said: "It is unfortunate that the Cayman Premier would choose an open (public) to condemn the Premier of Bermuda, which makes any attempt to 'mend fences' with Bermuda more difficult.
"For the record, I recall that it was the Cayman Premier who made derogatory comments about Bermuda in February 2012 which didn't sit well me and others at the time.
"What I find most ironic and disturbing is that two British Overseas Dependent Territories Bermuda and Cayman Islands – both feeling the wrath of the economic dragon and suffering from serious social challenges – are publicly fighting each other when both jurisdictions not only compete against each other but also mother Britain and other major countries for the same business around the world.
"The world is watching and I have to ask, what message is this open letter and other disparaging comments made achieving for either jurisdiction?
In conclusion, a quote in February from a business blog Offshore Watch entitled "Cayman and Bermuda get into a very public spat" summed it up as follows:
"Whilst some amused onlookers await the next round of the sparring match there are others who believe that at a time of economic instability and political turmoil, the smaller international financial centres should be working together to protect the offshore proposition as a whole, rather than taking pot-shots at each other."
Mr Swan continued: "The time has come for diplomacy to prevail and if it has not already started voluntarily, then the last resort is to call on both Government Houses of Cayman Islands and Bermuda to broker talks between the leaders of their subordinate jurisdictions."
"Ironically, if we were both sovereign countries such disputes could result in more serious consequences. However, the fact that we are not sovereign countries should not prevent us from acting responsibly," concluded Mr Swan.
Related Posts