Somerset's Chris Douglas has been chosen as the Cup Match Classic Safe Hands Award winner for 2012. Douglas, who took an excellent catch on the first day of the match, followed that up with another fine effort on the second day of play which led to the dismissal of St. George's Glenn Blakeney.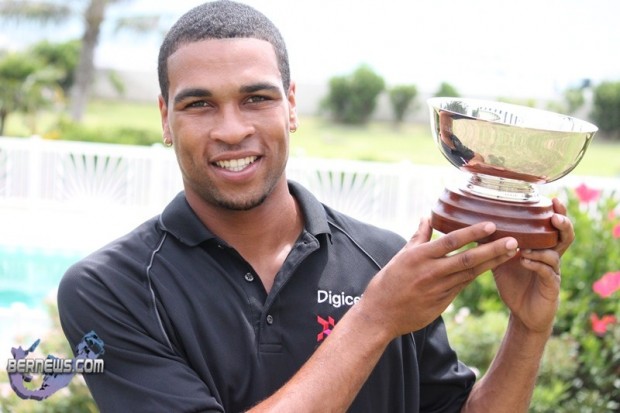 Douglas received the Calvin "Bummy" Symonds Cup in recognition of his achievement, and a one thousand cash prize, two round trip tickets to one of the gateway cities and playing kit courtesy of the Calvin Symonds family.
Cup Match Classic Safe Hands Award Fact Sheet 2012
This marks the 15th year of the Safe Hands Award which began in 1998.
The first player chosen for the award was Somerset CC's Janeiro Tucker.
St. Georges Cricket Club's Lionel Cann was chosen as the 2011 winner.
Three players have won the award twice: Janeiro Tucker, Dwayne Leverock and Chris Foggo
No player has won it back to back.
To date a Somerset player has won 8 times, while a St. George's player has been chosen 6 times.
Cup Match legend Dennis Wainwright and the 'Voice of Summer' Jim Woolridge, have been the longest serving judges, with this year marking Woolridge's 15th year and Wainwrights 14th.
Related Posts