Close to 20 boats in nine separate classes will take to the waters for the Bermuda Powerboat Association's Around the Island Race on Sunday [Aug 12], with the first class due to start at 2pm.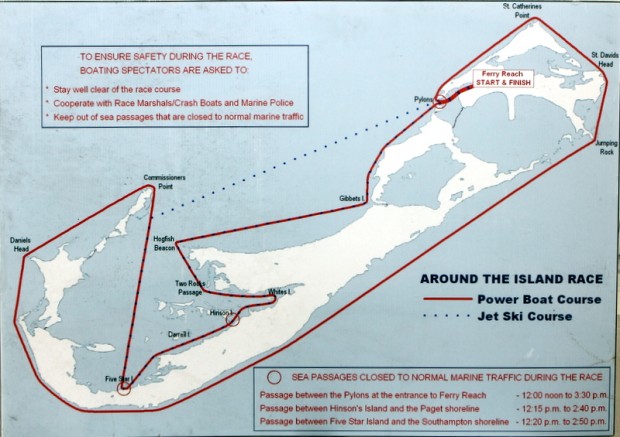 The current course for the race was established in 1976. The race starts at Ferry Reach and proceeds through the pylons at Coney Island, along North Shore and around a buoy off Gibbets Island. Boats continue along North Shore and around Hog Fish Beacon, through Two Rocks Passage and around Whites Island.
From there, boats continue along the Harbour Road shoreline, around buoys at Five-Star Island, along to Commissioner's Point, around Daniels Head and on to South Shore. Boats continue along South Shore to St. David's Head, then around St. Catherine's Point, down North Shore and back into Ferry Reach for the finish.
David Selley and Andrew Osborne's D33 during last year's race:
During the race, the following sea passages will see closures to normal marine traffic:
The passage between the pylons at the entrance to Ferry Reach
The passage between Hinson's Island and the Paget shoreline
The passage between Five-Star Island and the Southampton shoreline
Ferry Reach swing bridge will be closed to all marine traffic between 1:30pm and 3:30pm
Spectator boat operators are being asked to stay clear of the race course and to cooperate with race marshals, crash boats, regiment patrols and marine police who will be along the route.
Related Posts