Weather systems continue to churn away in the Atlantic, with Tropical Storm Kirk being upgraded to a hurricane, and Tropical Storm Leslie forming behind Kirk. The Bermuda Weather Service [BWS] has said that neither are a threat to Bermuda at this time, however Leslie could come near the island by the middle of next week.
Tropical Storm Leslie's closest point of approach to Bermuda within 72 hrs is forecast to be 582 nm to the SSE at 6am on Monday [Sept 3], while Hurricane Kirk's closest within 72 hrs is forecast to be 708 nm to the east at 3pm today [Aug 31].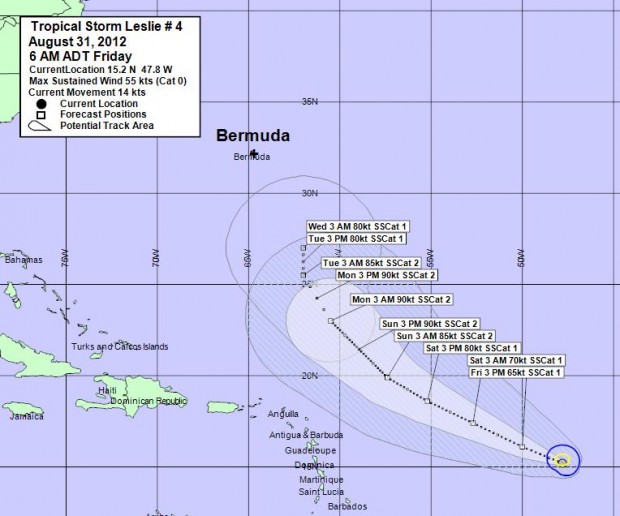 In the forecast discussion BWS meteorologist James Dodgson said: "Hurricane Kirk (well to the ESE of Bermuda and not considered a threat) is now beginning to move N and is then expected to move rapidly NE as it gets caught in the upper westerlies. It is eventually expected to be absorbed by a mid-latitude front.
"Of more concern is TS Leslie, which is expected to come near to the Island by the middle of next week. Model consensus take the storm to our E, keeping us out of the worst winds. However, there is still a chance of TS force winds to affect the Island, and high surf/heavy swells are also expected, perhaps giving some significant beach erosion."
The U.S. National Hurricane Center said that Tropical Storm Leslie — the 12th named storm of the season — is expected to strengthen, and could become a hurricane later today.
Related Posts