This year's KPMG Scholarship has been awarded to Kris Furbert of St. George's. Mr Furbert will be entering his first year at the European School of Economics in Madrid, pursuing a Bachelor's Degree in Business Administration with a focus on Finance, and pursuing Spanish as a second language.
The scholarship is awarded by the Partners of KPMG in Bermuda and is given to a Bermudian student committed to a career as a chartered accountant (CA) or Certified Public Accountant (CPA). It is valued at $20,000, per annum for each of the next three years.
Back row L-R: Steve Woodward, Partner; Kris Furbert, KPMG Scholarship Winner; Craig Bridgewater, Partner. Front L-R: Andrew Mendonca, Audit Senior; Wanda Armstrong, HR Manager: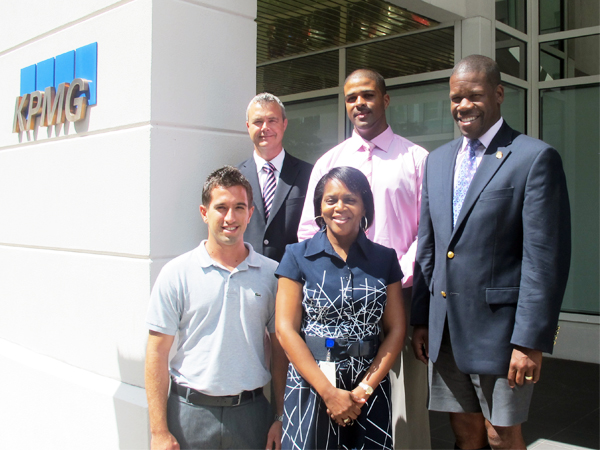 .
Aside from his academic successes Mr Furbert has been heavily involved in the community, focusing on youth and service as a Mentor with the Big Brothers organisation since 2009, an Education Coach with the Mirrors programme, and through his service within the Bermuda Regiment. He is a keen sportsman, being a member of the Mariner's Rugby Club and representing Bermuda as a member of the National Rugby XV and 7's teams.
The KPMG Scholarship provides financial assistance to students towards the completion of an undergraduate degree and Mr Furbert was selected after detailed review by the Scholarship Committee. Over 40 applications were reviewed this year, with a third of the candidates progressing to the interview stage. When reviewing the applications and assessing the candidates, the Committee focuses on academic achievement, personality, leadership and involvement in the community.
KPMG Partner, Steve Woodward explains; "The partners of KPMG in Bermuda are proud to award this scholarships to Kris. He has proven himself an excellent candidate across all facets of our selection criteria and a standout amongst the other very talented applicants. The KPMG Scholarship is an important aspect of our active student programme, providing local students with financial assistance to further their education as they pursue their undergraduate degrees."
Related Posts