Liquidators have been appointed at the two remaining White's stores KPMG confirmed this evening [Aug 16]. Charles Thresh and Mike Morrison have been appointed as Joint Provisional Liquidators of White's at Southside Ltd. and of White's at Hayward's Ltd.
White's at Haywards was closed this afternoon, and this sign was on the door: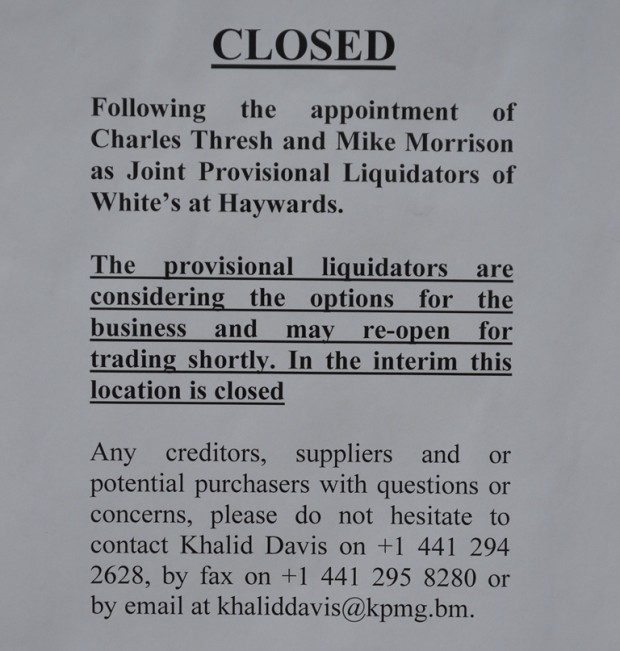 "On 15th August 2012 Charles Thresh and Mike Morrison of KPMG Advisory Limited were appointed Joint Provisional Liquidators ("JPLs") of White's at Southside Ltd and of White's at Hayward's Ltd ("the Companies") by the Supreme Court of Bermuda," said a statement from KPMG.
"The JPLs are currently assessing a variety of options, including continuing to operate the businesses while a potential sale of the businesses is explored.
"Any creditors, suppliers and or potential purchasers with questions or concerns, please do not hesitate to contact my colleague Khalid Davis on +1 441 294 2628, by fax on +1 441 295 8280 or by email at khaliddavis@kpmg.bm."
According to the original legal notice, the petition to wind up the two stores was actually scheduled to take place on August 31, however the Supreme Court ordered them into liquidation on August 15. KPMG did not clarify why this was being done before the set date of the hearing, however White's in Southside starting having a 40% off sale earlier this week.
White's Supermarket at Warwick was ordered into liquidation on August 10, and they held a two-day liquidation sale which ended today. White's first opened their doors 88 years ago, and previously employed a total of 85 people.
Related Posts