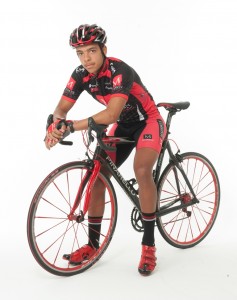 Cyclist Dominique Mayho says he is getting "used to France", where he is living and training for a two month period.
The 18-year-old has taken the local cycling scene by storm this season, winning the Bermuda National Road Race Championships, the May 24th Sinclair Packwood Memorial Road Race and several Road Race Series events.
He has also broken a long standing local Time Trial record this season, is the current Adult National Mountain Bike Champion and recently picked up a sponsorship from Digicel.
Mayho said: "I'm starting to get used to living in France, nice but sometimes strange food, although great people, good roads. I can finally ride in one direction as long as I want! The weather is good, hot but not humid, so perfect for riding.
"The intensity and volume of riding has certainly picked up a lot. I'm riding six days a week and on Tuesdays I'm riding twice.
"I competed in my second race in category two for UCC VIVONNE. The course was a lot harder than last weeks'. It was eight laps of just under thirteen KMs a lap. There were two long climbs really close together.
"I won fifteen Euros in primes, not sure how that happened but I'll take it. I stayed in the lead pack as long as possible but the fifth time around was just too much.
"I joined with one of my teammates and we finished in front of the chase group. My place was 23 out of 44. Hopefully the next race, which is on Wednesday, is flatter."
Read More About