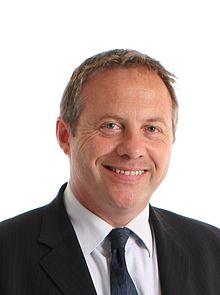 Premier Paula Cox has issued a statement "to remind" a UK MP that Bermuda pays all of its own bills — including the bill for Bermuda's Governor — after he criticized Bermuda's tax policy and said "we are paying twice because we are paying for Bermuda."
The Independent reports that John Mann [pictured], a member of the Treasury Select Committee and Labour MP for Bassetlaw, said that the Bermudian government needs to "take a stronger stance on tax avoidance schemes which hit British tax receipts."
"This sort of scheme is running, meanwhile we are providing a legal base and defence for Bermuda because it is a British dependency," he said.
Mr Mann added: "Firstly, we should be ensuring first of all that this is not possible across the EU. There is no point being in if you can tax dodge.
"Secondly, if Bermuda or any other British dependency wants our help with defence, then it should stop operating this sort of tax policy. We are paying twice because we are paying for Bermuda."
Premier Paula Cox said: "The Bermuda government will continue to stand strong for Bermudians and we will continue to work to attract new business to our shores that provide opportunities for our people.
"Bermuda is a global financial centre that offers speed to market, intellectual capital and an stable environment from which to operate a global business. Since the beginning of international business in Bermuda this has been our main drawing card.
"Bermuda is an international leader in tax transparency and is the Vice Chair of the Global Forum on Transparency and Exchange of Information for tax Purposes.
"We have no intention of changing our centuries old tax laws which continue to serve the needs of our people.
"I would also take this opportunity to remind Mr. Mann that Bermuda pays all of its own bills, including the bill for Bermuda's Governor," concluded Premier Cox.
These comments came after online giant Google was accusing of using registered subsidiaries in Ireland and Bermuda to reduce their tax payments. Mr Mann said it was "entirely improper and immoral" that Google should pay that amount of tax .
He wants to bring Google executives in front of the politicians' panel to answer questions as to why it paid £6 million [$9.4m] on a total revenue of £395 million [$619m] last year.
A Google spokesman said the firm abides by all tax laws. "We make a substantial contribution to the UK economy through local, payroll and corporate taxes," he said.
"We also employ over a thousand people, help hundreds of thousands of businesses to grow online and invest millions supporting new tech businesses in East London. We comply with all the tax rules in the UK."
Related Posts