Twelve Bermudian university students participating in this year's Summer Internship Program [SIP] yesterday [Aug 9] presented the results of their community service projects during a closing ceremony at the ACE Building.
The SIP, which is now celebrating its tenth year, was developed by ACE Group, HSBC Bermuda and Deloitte. It provides students with a unique learning experience that allows them to gain practical knowledge of Bermuda's international business sector and acquire information to help them make informed career choices.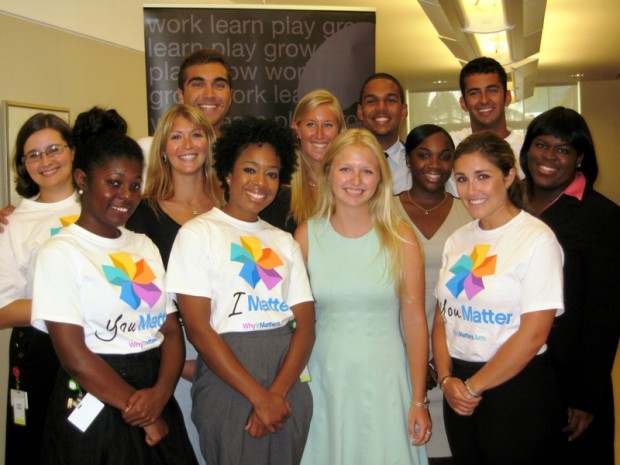 Rees Fletcher, Division President of ACE Bermuda stated that "ACE, HSBC and Deloitte take great pride in having led the Summer Internship program since its launch in 2003. Ten years later, the SIP Program is still delivering on its intended mission to identify and develop outstanding talent, and to provide effective opportunities for continuous learning."
During the 10-week internship program the students worked at each of the three partner companies. They focused on insurance and reinsurance at ACE Group, assurance and accounting at Deloitte, and finance and risk management at HSBC Bermuda. The SIP students dedicated one day a week to work on their community projects specifically designed to encourage their team building and leadership skills.
This year's SIP community projects were: Bermuda Hospital Charitable Trust and Hilary's Place. Six students were assigned to each project and have taken it from conception to implementation.
The first team was assigned to Bermuda Hospitals Charitable Trust and worked to develop a marketing strategy which aimed at raising awareness of healthcare philanthropy and a corresponding fundraising initiative for primary, middle, secondary and university students.
Wendy Augustus, Executive Director of Bermuda Hospitals Charitable Trust stated "The SIP members were challenged to create a youth driven philanthropic programme.
"They have undertaken this task with enthusiasm; bringing fresh, innovative ideas to the discussion. The group met with the leadership of BHB and BHCT during the programme and conducted their own survey as part of their research for the project.
"The SIP recommendations will contribute to our growing Why It Matters campaign initiatives in support of the KEMH Redevelopment Project."
The other team set out to create strategic and marketing plans for Hilary's Place. Marian Sherratt, Project Coordinator for Hilary's Place stated, "It was a real privilege to be selected for the Summer Internship Program.
"Hilary's Place has benefited from having six bright and talented students working as a team to develop our strategic plan in combination with a marketing plan. At the same time, the students have gained an insight to the challenges of a start-up organisation.
"The students' energy, enthusiasm and creativity have combined to develop a road map for Hilary's Place to support family caregivers in Bermuda, our silent heroes. It has also been particularly rewarding to see the students interact with our family caregivers and the care recipients.
"They are a credit to Bermuda, their parents and teachers, and the SIP sponsors – ACE, HSBC Bermuda, and Deloitte. Hilary's Place and our family caregivers are very grateful and wish the students all the best in their future endeavours."
Scott Nearon, one of this year's interns said, "I am grateful for this opportunity – the experience has been so
unique. We learned so much in the last ten weeks. I can speak on behalf of the eleven other SIP interns that
we are truly grateful for this opportunity. We are proud to be a part of such a great legacy."
Out of 29 applicants for the 2012 SIP, 12 students were selected from disciplines including accounting,
finance, environmental science, marketing, and social sciences.
The 2012 SIP participants are:
1. Dara Alizadeh University of Pennsylvania
2. Queena Francis Clark Atlanta University
3. Matt Gerardo St. Francis Xavier University
4. Caitlin Gordon Lafayette College
5. Scott Nearon Morehouse College
6. Yvonna Osborne Temple University
7. Samantha Pickering City University
8. Danielle Richards Acadia University
9. Anuli Roberts University of Hertfordshire
10. Sarah Russo St. John's University
11. Chelsea Trott University of Virginia
12. Somer Zuiker Queen's University
Related Posts