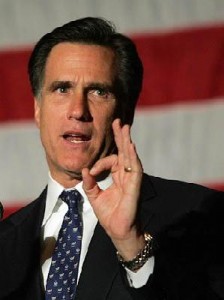 Hustler men's magazine publisher Larry Flynt has taken out full page ads in various newspapers worldwide — including Bermuda — offering a $1 million reward for information on Republican Presidential nominee's Mitt Romney's financial matters.
In addition to the full page ad appearing in today's [Sept 12] Bermuda Sun newspaper, the Hustler publisher is also reported to have bought full-page ads in The Washington Post, USA Today and newspapers in Zurich and the Cayman Islands.
The ad offers a $1 million "cash reward" for information on Mr Romney's "offshore assets, business bank accounts and business partnerships." It asks they call his "hotline" at 1-800-251-2714 or email hustertipline@LFP.com. The Washington Post's version of the ad can be viewed here.
"I don't expect his attorneys or his accountants or his cronies to give him up," Mr Flynt told the Daily Beast, "but some clerk will."
This is not the first time the often-controversial Hustler publisher has offered a reward. Last year, he offered $1 million for information on Governor Rick Perry.
Recent news reports have focused on Mr Romney's Bermuda corporation, with numerous Democrats attacking the former Massachusetts Governor — who is estimated to be worth over $250 million — for keeping money offshore.
Bermuda-based Sankaty High Yield Asset Investors Ltd is one of Romney's holdings, and was transferred to his wife Ann's name one day before he was sworn in as the Massachusetts Governor in 2003.
The Obama campaign has released an online video attacking Mr Romney for his Bermuda holdings. The video features Press Secretary Ben LaBolt where talking about the "millions of dollars Romney has in tax havens like Bermuda and Cayman."
"Bermuda does not tax corporate income or capital gains. Convenient. But what taxes would Romney have paid if his money was invested here in America," asked Mr Labolt.
The 2012 U.S presidential election will be held on November 6, 2012. Incumbent President Barack Obama is running for a second term against Mr Romney.
Read More About