[Updated] Emergency services responded to an an accident on North Shore Road in Hamilton Parish shortly before noon today [Sept 2].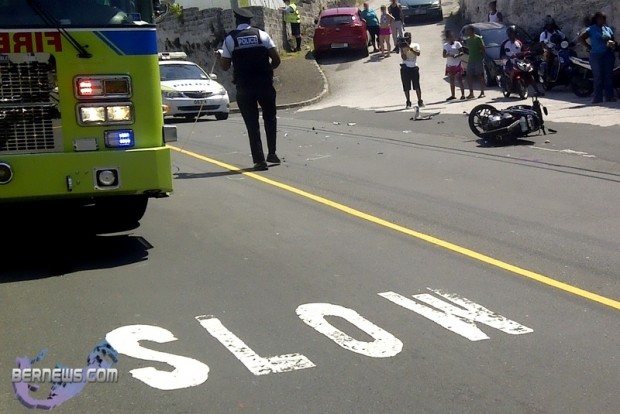 It appears the male rider of a motorcycle received injuries after being involved in a collision with a car near the junction with Aubrey Road. A crowd gathered to watch as EMTs from the Fire Service attended to the injured rider until an ambulance arrived and transported the rider to King Edward Memorial Hospital for treatment.
The extent of the rider's injuries are unclear, however we will update with information as able. Traffic flow was restricted, causing a backup of vehicles for a period of time while emergency services tended to the rider and police investigated the accident scene.
Update Sept 3: A police spokesperson said, "Around 11:45am on Sunday, September 2nd police and first responders attended a reported collision at the junction of North Shore Road and Aubrey Road in Hamilton parish involving a car and a motorcycle.
"It appears that both vehicles were traveling along North Shore Road when they collided. The rider of the motorcycle, a 47 year old Pembroke man, was injured and taken to King Edward VII Memorial Hospital via ambulance for treatment.
"His injuries are not believed to be life threatening. There were no other injuries reported. Both vehicles were damaged as a result. Inquiries into this incident are underway."
Category: Accidents and fires, All, News