On, Thursday October 4th, The Juilliard School Poetry Teacher, Samantha Thornhill will return to Bermuda to share insights on the forgotten art of Letter Writing in an evening of poetry, storytelling and the screening of a documentary at The Chewstick Neo-Griot Lounge & Cafe'.
A spokesperson said, "This awe-inspiring evening will introduce a powerful weekend of deepening at the final Chewstick Foundation Retreat of 2012 on Paget Island, which will also include international guests Grace Cheptu and Bob Murray from North of Eden, who specialize in healing through the understanding of messages brought to us by our dreams.
"Ms. Thornhill has spent the last few months since her debut performance in Bermuda exploring the world and learning more about justice, letter writing and the implications of our flawed legal system. On Thursday, October 4th she will share the story of a man on death row, denied the right to tell his own story.
"She will introduce the power of letter writing and share how for many who are incarcerated this is the only window they have to the world. The evening will be a mix of a documentary screening, poetry performance and discussion, as Ms. Thornhill shares how she met this incredible young man and her journey toward helping him.
"The event will start at 6pm, entry is free, with donations accepted and opinions encouraged. This will segue her contribution to The Retreat, as she will further spotlight the power of storytelling through letter writing.
"Her approach is interactive and inspirational as she strives to promote understanding of self, by encouraging sharing and expression through writing. Find out more about Ms. Thornhill at samanthaspeaks.com.
"Alongside, Ms. Thornhill The Fall Retreat 2012, promises to be the best ever, as Bob Murray and Grace Cheptu from North of Eden (NOE) in Vermont will also be participating. NOE encourages poetry, musical expression, essay writing and song to help people tap into their dreams; seen as a journey to help toward personal healing.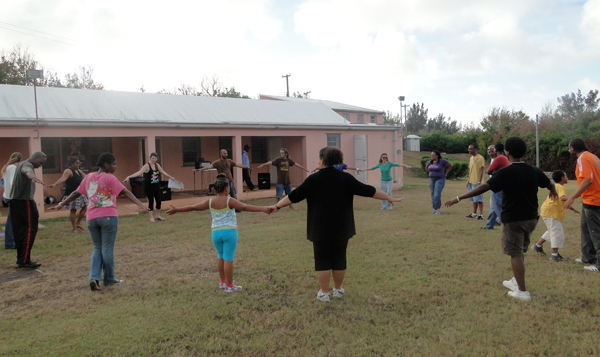 "On The Retreat participants will have the chance to understand how dreams take us to a deeper story that must be explored. Participants will be encouraged to share individual gifts and passions, learn about and cultivate their own personal story and destiny. To find out more about North of Eden visit www.northofeden.com
"Retreats feature participant-led workshops, collaborations, group activities and quiet time dedicated to enhancing the overall process of personal and collective growth. So that all participants have the chance to share their interests and talents through leading a workshop or by delving more deeply into expressing it during the free time.
"Along with Ms. Thornhill's, and the North of Eden workshops there will be ventures into African Drumming, Song-Writing, Fitness, Guitar, Healthy Cooking, time for self-reflection, and more! Participants always leave the Chewstick Retreat with new, deep, personal relationships and continue their collaborations and creative growth well beyond the focused weekends.
"The Chewstick Foundation encourages participants to unplug from their cell phones and the worries of daily living and give in to a totally creative weekend. Space is limited for this special event and we are inviting participants to take part in a journey along with roughly 40 participants for this tremendous, life-changing personal adventure.
"Participants depart from the dock on Friday evening at 6 PM and are returned to the mainland on Sunday evening at 2pm. We invite you to attend the October 4th event or sign up for the Fall Retreat on www.chewstick.org. Alternatively sign-ups can be made by phone on 292-2439 or by e-mailing your information to info@chewstick.org.
"Payments should be made by October 1st to secure space. Cash or Credit Cards accepted; please make checks payable to The Chewstick Foundation. Payments can be made Mon-Fri, 9am-5pm at The Chewstick Foundation headquarters on the corner of Court Street and Elliot Street, or with a Credit Card over the phone by calling (441) 292 2439."
The price breakdown is as follows: General: $150, Members: $100, Under 18: $75, Parent & Child (under 18): $150 ($50 each additional child).
Related Posts
Category: All, Entertainment