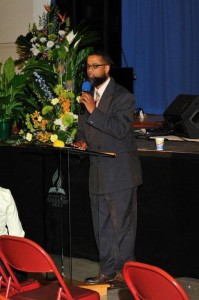 [Updated] The City of Hamilton announced the Board Members have passed a resolution making provision for Elder Kevin Santucci to be recognized as the organization's formal spiritual advisor.
Making the announcement was Deputy Mayor and Alderman, Donal Smith, who stated, "Elder Kevin Santucci is available to provide spiritual counsel to anyone in need at the City of Hamilton; staff, management and board members.
"This service can be used at the individual's discretion and is not mandatory."
Mr. Smith added, "Elder Santucci is a bible instructor for the East End Seventh Day Adventist Churches and Presiding Chaplain for the Department of Corrections East End.
"The Board feels it is important to have a spiritual advisor, should the need for guidance and support arise. We look forward to working with Elder Santucci."
Update 9.55am: We asked the City whether this was a paid or voluntary position, and they said it was voluntary.
Related Posts