Four-time Olympian Troy Douglas has returned home to serve as the National Track & Field Coach, and said that we will be seeing "some fantastic things" in the future from the island's track and field athletes.
The BTFA hopes to make the position a paid one in the future, but at this stage it is being done on a volunteer basis. When asked about how he felt about not being on the payroll, Mr Douglas said: "I follow my heart."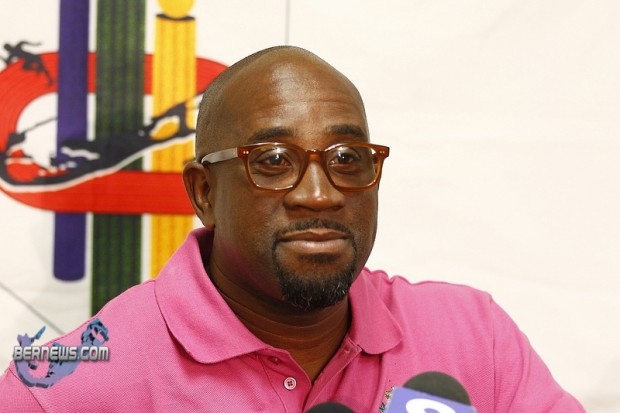 One of the best sprinters in Bermuda's history, Mr Douglas represented Bermuda in three Olympic Games, before changing nationality to the Netherlands almost fifteen years ago. He made his fourth appearance in the Olympics under the Netherlands flag.
He reached the semi finals on the 200 metres in the 1996 Olympics, made the Olympic semi finals in the 400 metres in 1992 and 1996, and set a world record in the masters division of the 60m World Indoor sprints.
Mr Douglas worked as a coach in the Netherlands for the last 10 years, moving up to being the Head Coach for the 4×100 men's relay team, which recently finished 6th in the 2012 Olympics. He returned to Bermuda a few days ago to take up the post of Bermuda's National Track & Field Coach.
Mr Douglas with Bermuda Track & Field President Donna Watson: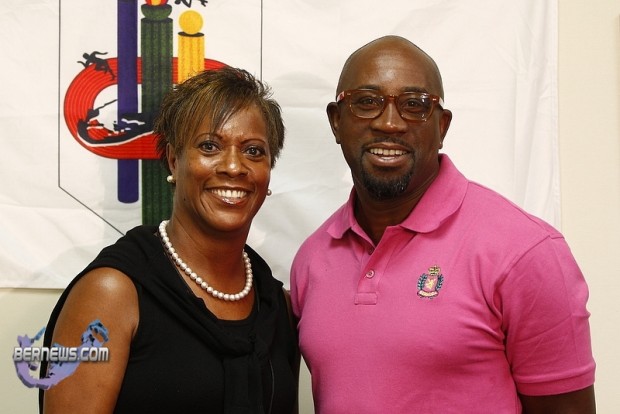 BTFA President Donna Watson said: "I am excited. As you all know I have been trying to get Troy back here since 2009. He will tell you whenever I saw him in that orange and brown [the Netherlands colours] I said we have to get you out of that and into this blue and red.
"So he said to me at the Olympics, Donna this is the last time I will be in the orange and brown. I am so excited, I think Troy brings so much to our Assocation. The contacts that he has, the knowledge that he has…I think it will take us to that next level.
"I know it, I don't just think it. The Bermuda Track and Field Association is on its way to the next level. And our athletes are ready," said Ms Watson.
Asked about any perception some may have that he abandoned Bermuda by switching to the Netherlands, Mr Douglas said: "I do not see myself as abandoning Bermuda. I see it enriching myself, and now that I back, I am enriching Bermuda.
"If you don't take the risk you are incapable of knowing what you are capable of achieving. I took that risk and I am grateful for that risk," said Mr Douglas.
"And I don't feel like I have abandoned Bermuda. If you look at any interview on TV or radio in the Netherlands they always say Troy Douglas from Bermuda who is now a Dutchman. I have carried the label of Troy Douglas the Bermudian, and I will continue to carry it till the day I die."
15-minute press Q&A with Mr Douglas:
"I think once we get our act together in the next six months you will see some fantastic things," said Mr Douglas. "It is going to look good for the future."
Related Posts