The 2012 Junior Caribbean Cycling Championships in Dominican Republic concluded today [Sept 16] with Bermuda taking another gold medal.
Sunday's success came from Gabriella Arnold who bested her competition in the Girls 15-18 road race of 36 kilometers. This makes the second year in a row for Bermuda to capture this title as Molly Pilgrim took the honors in Puerto Rico in 2011.
In the two boys road race categories, Team Bermuda met serious competition in a race that grows in difficulty each year. Daniel Oatley made it into a group chasing the sole leader and in the final sprint Oatley finished in the top seven for a strong result.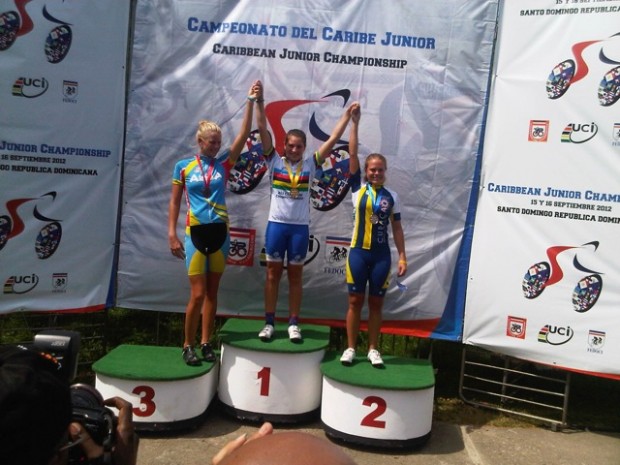 Nathaniel Hartwig and Nico Barclay contested the sprint from the peloton while Daelan Richardson suffered an early puncture, leaving him to chase with a small group.
In the 17/18 boys group more misfortune arose for Bermuda as Deshi Smith had mechanical difficulty after nearly avoiding an early crash. And Vashon Cann had his rear gear mechanism snap just as he was cresting a hill with the main peloton, putting him out of the race suddenly.
Mark Godfrey, then the sole member remaining in the race, succumbed to the heat and began severely cramping while the peloton slipped away. Gabby Arnold at awards presentation for Girls 15-18 Road Race. The team is scheduled to return to Bermuda on Monday evening on American Airlines from Miami.
Related Posts