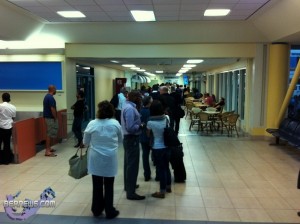 The L.F. Wade International airport was evacuated last night [Sept 14] after a fire alarm was activated, causing passengers for the British Airways flight to have to leave the airport while officials checked the cause of the alarm.
Unofficial reports suggest that water may have somehow gotten a station, which caused the fire alarm to go off.
One fire truck responded and at least two police officers also arrived at the scene, with passengers escorted outside while checks were being made.
Emergency personnel left the scene at approximately 7.20pm, and the passengers making the British Airways flight were allowed back in to the airport to check in. The flight's departure was delayed for a few minutes due to the alarm.
Read More About
Category: All