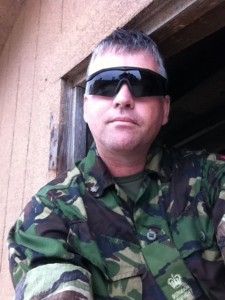 The Bermuda Regiment has confirmed the sad news that Major Christian Wheddon was killed in a car crash yesterday [Sept 9] in the UK.
Commanding Officer Lieutenant Colonel Brian Gonsalves, said: "It is with the heaviest of heart that I have the sad duty to inform you that Maj Chris Wheddon was killed in a Road Traffic Accident yesterday afternoon in the UK.
"As you know, Maj Wheddon was in the UK conducting training, and although full details are not available at this point, he was on his way to his next assignment.
"Everyone who knows Maj Wheddon knew he loved the military and everything it encompasses.
"He was thrilled to have had the opportunity to be a part of the OPERATION Olympics and to see firsthand many of the assets the British Army has to perform their duties.
"Maj Wheddon was a kind, honest and decent person. I consider myself lucky to have had the good fortune to have known him and be able to call him a friend
"The thoughts and prayers of everyone serving in The Bermuda Regiment are extended to his family and friends at this extremely difficult time."
"The soldier's next of kin have been informed and have asked for a period of grace before further details are released," Lt. Col Gonsalves concluded.
Update: Numerous people have paid tribute to Major Wheddon. They can be read here.
-Photo via Facebook.
Read More About
Category: All