[Updated] The annual Labour Day Banquet was held last night [Aug.31] at the Fairmont Southampton, starting off the 31th Anniversary of the celebration of Labour Day in Bermuda.
Those in attendance included the Prime Minister of Antigua and Barbuda Baldwin Spencer, Premier Paula Cox, Opposition Leader Craig Cannonier, BPSU President Kevin Grant, BTUC President Wendell "Shine" Hayward, City of Hamilton Mayor Graeme Outerbridge, and numerous others including MPs and Senators from both sides of the aisle.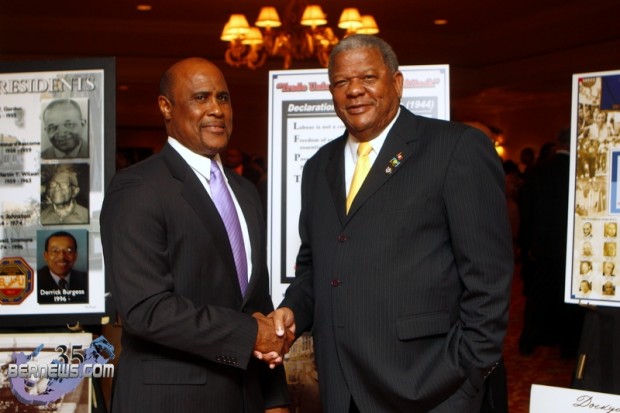 The night started with a cocktail reception before guests were invited into the banquet hall to be seated. Master of Ceremonies Andre Rochester gave a welcome and introduced those at the head table.
BIU General Secretary Molly Burgess gave a welcome address before a prayer and blessing were given, and entertainers for the evening included Larrita Adderley and Wendell "Shine" Hayward.
Dinner for the event included a salad of mixed baby greens, breast of chicken, red snapper filet, herb mashed potato and apple crumble tart with cinnamon ice cream for dessert.
After dinner, remarks were given by Premier Paula Cox before former BIU President Ottiwell Simmons introduced the guest speaker. The invited guest speaker was Prime Minister of Antigua and Barbuda Baldwin Spencer who railed on Bernews comments [we left before his speech and so are trying to attain it now], and BIU President Chris Furbert delivered the closing remarks.
Click to enlarge images:
Update: We sent a photographer and were not present for the speeches, however the Prime Minister did talk about 'vile' online commentators specifically on Bernews website. You can read the Sun's report here and the Royal Gazette's report here, and we hope to obtain his full speech if possible.
Related Posts