At the Bernard Park on Sunday [Sept 23], newly promoted Wolves took the lead in the 24th minute when Vincent Minors scored, the visitors lead was doubled in the 53rd minute when Derek Brangman found the back of the net.
Brangman then gave Wolves a 3 – 0 lead when he scored in the 57th, but four minutes later the North Village Rams pulled a goal back when Cory Boyce found the back of the net. Keishen Bean pulled the home team within one in the 77th minute, however Wolves were able to hold on for the 3 – 2 win.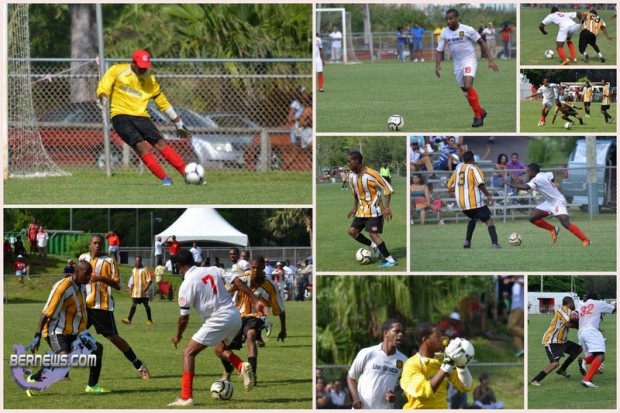 In other Premier Division action, Southampton Rangers defeated Dandy Town Hornets 1-0, and Flanagan's Onion's defeated St. George's Colts 2-1.
In First Division action Young Men Social Club defeated Prospect United 7-0 with a hat trick from Callon Burns, St. David's defeated Devonshire Colts 2-1, Paget Lions lost 5-0 to BAA 5, and Somerset Eagles hammered the Ireland Rangers 0 Somerset Eagles 9-0 with Tristan Smith scoring five goals.
Click to enlarge photos:
Read More About