Governor George Fergusson, Premier Paula Cox and politicians from all three political parties joined the family and friends of the late Minister Nelson Bascome at today's [Sept 16] road naming ceremony, which was held on Friswells Hill where Minister Bascome was a long term resident and well known part of the community.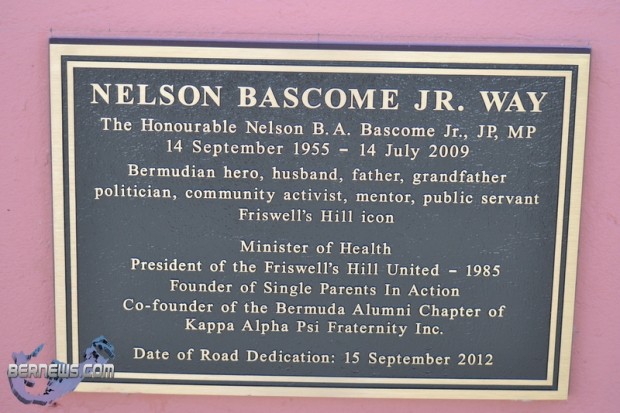 Minister Bascome represented Pembroke East Central in the House of Assembly from 1989 until his death in July 2009, and was well known for his work both as a Parliamentarian and within the community. He began his professional career as a Residential Treatment Officer in the Bermuda Government, and later joined Benedict Associates as an Employee Assistance Counselor & Consultant. In 2004 he joined Focus Counseling Service.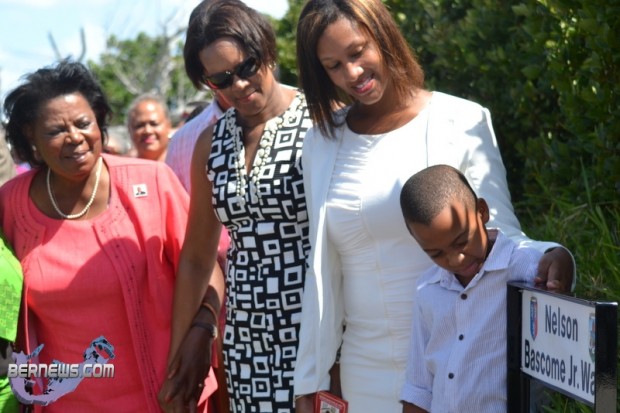 He was one of the first Bermudians to achieve certain professional designations in the addictions field, and served on related boards including the Bermuda Addictions Certification Board and the Bermuda Social Work Council.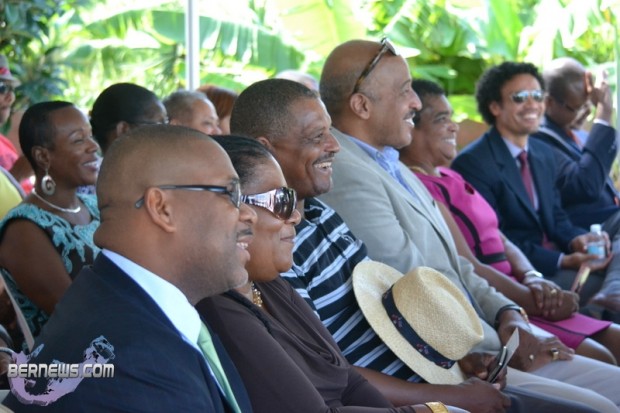 Minister Bascome was well known for his community work with numerous organisations including Friswell's Hill United, Pembroke Community Club Drum Corps, Focus Counseling Service, Single Parents in Action, Community Advice Center, St. Monica's Action Committee, 100 Black Men of Bermuda and the Venturilla Summer School for Boys.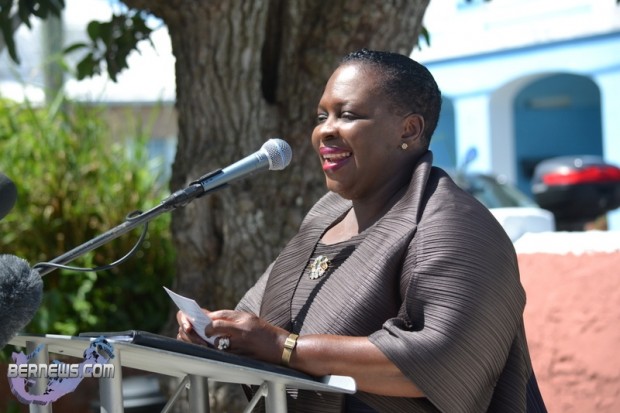 Premier Paula Cox praised the late Minister as someone who put his country before himself, and said she misses him not only as a fellow Parliamentarian, but as a friend. Public Works Minister Michael Weeks praised Minister Bascome for his community work, and said he was a devoted family man whose children and grandson were extremely important to him.
Today's ceremony followed after yesterday's Nelson Bascome football game, which saw Health Minister Zane Desilva, Tourism Minister Wayne Furbert, Public Works Minister Michael Weeks, Youth & Sports Minister Glenn Blakeney, UBP Leader Kim Swan, OBA MP Mark Pettingill and OBA candidate Andrew Simons all take the field to play in the charity match.
Click to enlarge photos:
Read More About