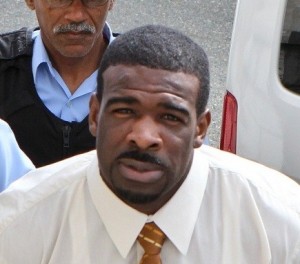 Appearing in this morning's [Oct 1] Supreme Court Monthly Arraignment session, David Jahwell Cox stayed silent when asked to enter a plea to the murder of Kimwandae Walker.
Mr Cox [33] first refused to speak when the Registrar asked him to identify himself. He then remained silent after the two charges were read to him and he was supposed to enter a plea.
Saying that he was "not mute by nature", Justice Carlyle Greaves said that he would note Mr Cox's non-vocal response and that he would enter a plea of not guilty to each of the two counts.
Mr Cox's co-accused, Julian Washington [23], did speak and pleaded not guilty to the April 2010 premeditated murder of Kimwandae Walker and not guilty to using a firearm to commit the murder of Kimwandae Walker.
Both men must re-appear for Mention at the next Arraignments Session on 1st November and both will remain in custody until that date.
Mr Walker, 35, was murdered at a Good Friday event being held at the Victor Scott school field at around 2pm on April 2, 2010.
- File photo
Read More About
Category: All, Court Reports, Crime, News