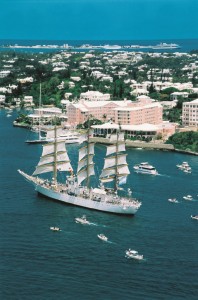 The Fairmont Hamilton Princess has been named to the Expedia Insiders' Select® list for 2012, an annual ranking of best-reviewed hotels as determined by the world's leading full-service online travel agency.
The Insiders' Select® list largely reflects the feedback from more than 500,000 verified Expedia customer reviews received during 2011, combined with a value rating and the local market expertise of more than 650 Expedia employees in local markets worldwide.
The exclusive 2012 list designates only 650 hotels as Insiders' Select, from among the more than 150,000 properties available on Expedia-branded sites worldwide. Insiders' Select helps travellers make confident decisions by identifying the hotels in their destination that have been recognized by other travellers as delivering an excellent overall experience.
"We at The Fairmont Hamilton Princess are consistently focused on delivering value in the form of superior customer service, ensuring our guests have an enjoyable travel experience," said Leonard Czarnecki, General Manager of The Fairmont Hamilton Princess. "It is rewarding to see that commitment has been reflected in our placement on the Insiders' Select list."
"Expedia customers reward value," said Joe Megibow, vice president and general manager, Expedia.com. "Value reflects an everyday commitment to excellence on the part of the hotel. For these hotels, customer satisfaction is paramount. And when we publish the list, we reward those hotels by doing more than sending them a plaque.
"We lift them up and make them visible through every stage of the booking process. This has an impact: millions of travelers visit Expedia's 30 global- travel sites every day because they are looking for value. So everyone wins."
Joining the Princess on the list was Bermuda's Coco Reef, with one reviewer saying: "We could not have asked for a better hotel, we had privacy but the staff was fantastic! we literally had the beach at our feet! We could go swim in the ocean, then the pool, change and have the most wonderful supper, or have lunch then go to the beach.
"We loved being able to catch the bus to Hamilton or dockside or any where and the staff at the hotel was very nice and helpful if we needed anything… we even got a ride to our room a couple of times, in the golf cart! I think Coco Reef is great for a couple or for a family! The rooms are spacious and bright and they even have a fridge for your beer! We will go back to Coco Reef for every stay in Bermuda!"
Read More About