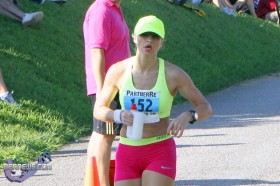 [Updated with full results] Hundreds of women turned out for the Partner Re 5k this morning [Oct 7], with Jennifer Alen racing her way to victory.
Last year Alen was in the lead, however she collapsed less than 100 meters from the finish line, with Joanna Shillington running past her to claim first place.
The largest all-female event on Bermuda's sporting calendar, the always popular event includes a 5K race for women, a 5K walk as well as corporate and school team events and a 2K run for girls under 15.
Now in its 15th year, the event serves to promote health and fitness while also raising funds for charity. This year the recipient is the Women's Resource Centre, which assists women who are victims of violence and provides support for other issues that women may be trying to resolve.
Full results are not yet available, however we will update with the results and footage of the event as able.
Update: Jennifer Alen crossed the line in a time of 19:27, with Hilda Stoney finishing second clocking 19:41, while Kristyn Robinson finished 19:55, Victoria Fiddick crossed the line 4th in a time of 20:15 and Deon Breary finished 5th clocking 20:20.
Ashley Irby clocked 6:42 winning the Junior race that covered a 2K Course, Lynsey Palmer finished 2nd clocking 6:43 and Paige Bruton finished 3rd with a time of 7:02. View videos and photo galleries of the race here.
Full Results:
1 Jennifer Alen 19:27
2 Hilda Stoney 19:41
3 Kristyn Robinson 19:55
4 Victoria Fiddick 20:15
5 Deon Breary 20:20
6 Karen Smith 20:24
7 Laurie Orchard 21:09
8 Alexandra Watlington 21:21
9 Cary Butterfield 22:01
10 Shianne Smith 22:17
11 Sharlene Sousa 22:25
12 Catherine Mello 22:30
13 Melissa Logie 22:32
14 Kathleen Moroney 22:34
15 Rebecca Cooper 22:34
16 Rachel Kempe 22:41
17 Nubelia Simas 22:45
18 Teresa Humphrey 22:52
19 Jenene Douglas 23:11
20 Alicia Hancock 23:15
21 Allison Schindel 23:25
22 Zina Jones 23:29
23 Kimiko Scotland 23:34
24 Anna Laura Hocking 23:39
25 Carrie Rosorea 23:41
26 Amber Mehta 23:41
27 Laura Norman 23:47
28 Stepanka Sprincova 23:49
29 Inger Johanne Mesna 23:49
30 Vera Lima 23:51
31 Colleen Crowe 23:56
32 Nerissa Simmons 23:59
33 Bonnie Mills 23:59
34 Natalie Luthi 24:05:00
35 Yasmin MacLean 24:10:00
36 Lucy Parker 24:14:00
37 Corinne Peach 24:15:00
38 Laura Wright 24:21:00
39 Rebecca Kuruvilla 24:22:00
40 Courtney Minors 24:27:00
41 Lucy Ching 24:27:00
42 Tracey Sutherland 24:29:00
43 Deanna Didyk 24:37:00
44 Mairi Redmond 24:44:00
45 Marilyn Zuill 24:48:00
46 Jennie Kelly 24:54:00
47 Tanya Copeland 24:58:00
48 Sharon Hammond 24:59:00
49 Gemma Gowrie 25:02:00
50 Eileen Davies 25:02:00
51 Cynthia Millett 25:05:00
52 Jessica Ferguson 25:11:00
53 Helen Dudley 25:17:00
54 Pippa Jones 25:30:00
55 Page Rouse 25:31:00
56 Smita Wacker 25:35:00
57 Apryle Oswald 25:37:00
58 Alexandra Aluas 25:40:00
59 Leila Bihina 25:43:00
60 Denice Dane 25:44:00
61 Betty Doyling 25:46:00
62 Sarah Thompson 25:49:00
63 Shauna Hassell 25:52:00
64 Shameella Simons 25:52:00
65 Robyn Skinner 25:53:00
66 Kate Tomkins 25:54:00
67 Mandy Wells 25:56:00
68 Maria Duffy 25:57:00
69 Sharmaine Landy 25:58:00
70 Lauren Shah 26:00:00
71 Kimberly Cumberbatch 26:04:00
72 Lara Rogers 26:15:00
73 Alexandra Wilberz 26:16:00
74 Lisa Pickering Rego 26:16:00
75 Michelle Hajek 26:21:00
76 Deidre Simons 26:26:00
77 Sally Pile 26:28:00
78 Pauline Green 26:31:00
79 Carolyn Conway 26:31:00
80 Meredith Head 26:33:00
81 Emma Harrison 26:33:00
82 Sarah Morgan 26:33:00
83 Rachelle Oneil 26:47:00
84 Melisa Gesick 26:48:00
85 Kathy Valdes 26:50:00
86 Melissa Chudleigh 26:56:00
87 Lynn Norman 26:59:00
88 Candace Roach 27:00:00
89 Gillian Cross 27:01:00
90 Marla Smith 27:02:00
91 Amanda Batista 27:03:00
92 Derika Bean 27:04:00
93 Sarah Cooper 27:05:00
94 Aprille Deshield 27:07:00
95 Peggy Couper 27:09:00
96 Zoey Roberts 27:09:00
97 Barbara Polic 27:11:00
98 Lori Rye 27:14:00
99 Kathryn Partington 27:16:00
100 Hataya De Silva 27:16:00
101 Celia Powell 27:16:00
102 Samantha Naude 27:17:00
103 Melissa Drea 27:20:00
104 Jennifer Morrison 27:27:00
105 Vera-Lynn DeShields 27:30:00
106 Angela Fleming 27:40:00
107 Lisa Perejma 27:43:00
108 Pamela Bardill 27:44:00
109 Ellen Goodyer 27:48:00
110 Heather Brain 27:48:00
111 Karen Peckett 27:50:00
112 Afnik Williams-Hyde 27:55:00
113 Emma Norman 27:56:00
114 Michelle Cardwell 27:57:00
115 Victoria Millett 28:00:00
116 Sangeeta Wagh 28:04:00
117 Britt Reiss 28:05:00
118 Terri Durrant 28:07:00
119 Elizabeth Deacon 28:10:00
120 Claire Roberts 28:12:00
121 Kate Jansma 28:13:00
122 Nadia Dattilo 28:14:00
123 Emily Hopkin 28:16:00
124 Alison Ince 28:18:00
125 Vanessa Piney 28:21:00
126 Tina McGuire 28:22:00
127 Sarah Marcotte 28:22:00
128 Lesley-Jane Smith 28:23:00
129 Dolores Beraldo 28:24:00
130 Tali Gabai-Maiato 28:27:00
131 Maxine Kane 28:27:00
132 Angela Ives 28:33:00
133 Jessica Runkel 28:37:00
134 Francine Hodgson 28:40:00
135 Natalie Dyrli 28:41:00
136 Rebecca Haak 28:42:00
137 Cynthia Thomas 28:45:00
138 Danielle Way 28:47:00
139 Melisa Judd 28:47:00
140 Kelly Calveley 28:48:00
141 Kim Simmons 28:53:00
142 Elizabeth Stewart 28:55:00
143 Tanaeya Burch 28:56:00
144 Michelle Li 28:57:00
145 Mayberline Black 28:57:00
146 Caroline Wright 29:03:00
147 Nicola Smyth 29:05:00
148 Emily Rowe 29:10:00
149 Nancy Roberts 29:11:00
150 Nancy Carrick 29:11:00
151 Ceri Riihiluoma 29:13:00
152 Juanita Swan 29:14:00
153 Jennifer Standing 29:14:00
154 Orla McCrann 29:15:00
155 Ayana Harvey 29:16:00
156 Daina Carey 29:17:00
157 Shanna-Lee Burch 29:18:00
158 Elizabeth Stone 29:19:00
159 Chiharu Astwood 29:21:00
160 Aisha Mellish 29:24:00
161 Ana Parkin 29:24:00
162 Patrina Cumbermack 29:25:00
163 Heather Brewer 29:26:00
164 Catherine Silvester 29:28:00
165 Hayley Williams-Eiselt 29:28:00
166 Eimear Burke 29:29:00
167 Wenda Roberts 29:31:00
168 Sioned Evans 29:31:00
169 Patricia Pitcher 29:33:00
170 Dawna Ferguson 29:41:00
171 Stephanie Davidge 29:45:00
172 L. Shinee Simons 29:46:00
173 Heather Wearmouth 29:47:00
174 Esme Davidge 29:49:00
175 Renee Fox 29:50:00
176 Alexandra Manders 29:51:00
177 Renee Gilchrist 29:52:00
178 Caitlin Murray 29:52:00
179 Jana Swainson-Roberts 29:52:00
180 Giovanna Easton 30:01:00
181 Caroline Stockdale 30:03:00
182 Lori Sommer 30:05:00
183 Gail Miller 30:08:00
184 Monika Adams 30:16:00
185 Arlene Basden 30:18:00
186 Susie Lacey 30:21:00
187 Carina Deiros 30:25:00
188 Janet Wheelan 30:25:00
189 Pamela Williams 30:26:00
190 Heather Trimingham 30:27:00
191 Elyna Thomas 30:31:00
192 Mei Wang 30:33:00
193 Elaine Campbell 30:35:00
194 Vonika Washington 30:35:00
195 Lawriette Thomas 30:40:00
196 Nicole Fox 30:40:00
197 Lisa Ferrari 30:44:00
198 Julie Foggo 30:44:00
199 Tina Rowse 30:48:00
200 Loryn Bell 30:52:00
201 Virginia Herrera 30:55:00
202 Francesca Bortoli 31:03:00
203 Tresca Trott 31:04:00
204 Carmel Hanna 31:07:00
205 Mechelle Willins 31:08:00
206 Jessica Arp 31:08:00
207 Edith Steel 31:09:00
208 Chelsea Robinson 31:10:00
209 Kelly Massa 31:11:00
210 Lisa Froud 31:12:00
211 Rosario Rowe 31:12:00
212 Karen Matson 31:13:00
213 Claudine Pullen 31:13:00
214 Leanne Oughton 31:13:00
215 Melonie Munro 31:18:00
216 Lorraine Lipschutz 31:21:00
217 Natasha Courcy 31:21:00
218 Lisa Lacey 31:21:00
219 Kirsty Watson 31:22:00
220 Hersey Caco 31:24:00
221 Komlah Foggo-Wilson 31:25:00
222 Rachel Talbot 31:29:00
223 Summer Sipes 31:30:00
224 Carol Dixon 31:32:00
225 Felicia Govender 31:40:00
226 Kim Anderson 31:44:00
227 Zahra Salassi 31:47:00
228 Judith Howe Tucker 31:51:00
229 Louise Charleson 31:52:00
230 Natosha Rayner 31:57:00
231 Lavonne Smith 32:05:00
232 Jamie Gutteridge 32:06:00
233 Paula Outerbridge 32:10:00
234 Alina Cretz 32:11:00
235 Molly Newbury 32:12:00
236 Ali Beaulieu 32:12:00
237 Janet Goslett 32:19:00
238 Christine Joell 32:21:00
239 Nicki Horan 32:23:00
240 Danielle Ford 32:23:00
241 Caroline Rees Davies 32:24:00
242 Lisa Spencer-Arscott 32:25:00
243 Melissa Fiddick 32:26:00
244 Angela Ambrosini 32:27:00
245 Melissa Flood 32:27:00
246 Sasha Crockwell 32:29:00
247 Cherie Dill 32:31:00
248 Katie Richards 32:32:00
249 Joanna Jackson-Smith 32:37:00
250 Edwina Arorash 32:42:00
251 Patricia Lyne 32:43:00
252 Nicky Stovell 32:51:00
253 Natasha Pethick 32:51:00
254 Becky Ausenda 32:51:00
255 Margaret Naval 32:52:00
256 Jessica Cote 32:54:00
257 Elizabeth Valencie 33:04:00
258 Cora Lee Starzomski 33:07:00
259 Adele Chiasson 33:08:00
260 Cherylle Swan-Simons 33:09:00
261 Annette Lewis 33:15:00
262 Pat Viera 33:16:00
263 Kandis Matthews 33:16:00
264 Elanor Daniel 33:17:00
265 Karen Bruton 33:27:00
266 Christina Smith 33:29:00
267 Claudia Philipsz-Jones 33:29:00
268 Suzanne Ringold 33:29:00
269 Andrea Daniels 33:31:00
270 Darnell Wynn 33:44:00
271 Wanda Armstrong 33:50:00
272 Krystal Williams 33:52:00
273 Goretti Clementino 33:52:00
274 Carrie Stroble 33:56:00
275 Rebeka Matthews Sousa 33:56:00
276 Clare Pemberton 33:57:00
277 Famella Haryanto 33:57:00
278 Stephanie Law 34:03:00
279 Danielle Morin 34:04:00
280 Emily Munro-Russel 34:07:00
281 Michelle Banfield 34:07:00
282 Donna Smith 34:07:00
283 Donnamae Arorash 34:08:00
284 Karen Clare 34:08:00
285 Ann Symons 34:09:00
286 Lisa Simms 34:15:00
287 Heather Couper 34:16:00
288 Pauline Cameron 34:17:00
289 Jane Hulse 34:27:00
290 Tobi Mark 34:29:00
291 Desiree D'Cruz 34:30:00
292 Marissa Trott 34:33:00
293 Meena Mahadevan Iyer 34:40:00
294 Robyn Bardgett 34:41:00
295 Jana Outerbridge 34:44:00
296 Andrea Trott 34:47:00
297 Allison Correia 34:50:00
298 Juliette Ferrari-Mccomb 34:51:00
299 Re-Anna Martin 34:52:00
300 Anna Chan 35:05:00
301 Susan Cross 35:10:00
302 Abigail Perrin 35:11:00
303 Jo Stanton 35:15:00
304 Tamara Simons 35:18:00
305 Tawana Tannock 35:19:00
306 R. Foggo Paynter 35:21:00
307 Karly Alleyne 35:29:00
308 Maria De Los An Alvarez 35:35:00
309 Gabriela Andersen 35:36:00
310 Michelle Jackson 35:38:00
311 Rahjee Burrows 35:39:00
312 Joy Wilson-Smith 35:46:00
313 Tanya McMahon 35:56:00
314 Jackie Stevenson 35:58:00
315 Tori Place 36:00:00
316 Justine Foster 36:01:00
317 Florence Pedro 36:07:00
318 Fiona Beckerlegge 36:11:00
319 Tanika Rayner 36:15:00
320 Michelle Ingham 36:21:00
321 Florence Sharpe-Trott 36:27:00
322 Shelley Harvey 36:28:00
323 Sonia Robinson 36:30:00
324 Sandra Stephens 36:30:00
325 Sarah Mayor 36:33:00
326 Anastasia Slater 36:45:00
327 Takeysha Atwell 36:46:00
328 Juliette Rewan 36:47:00
329 Ann Marie Davis 36:49:00
330 Nancy Wainwright 36:55:00
331 Tesha Fisher 37:12:00
332 Laura Blee 37:22:00
333 Alexandra Porter 37:26:00
334 Marian Lines 37:31:00
335 Lorraine Devery 37:34:00
336 Celeste Tenorio 37:36:00
337 Feven Binega-Northcott 37:39:00
338 Cyndie Paul-Girdwood 37:40:00
339 Alia Hamza 37:52:00
340 Shana Hayward 37:52:00
341 Samantha Payne 38:06:00
342 Karla Toyer 38:09:00
343 Sarine Babb 38:35:00
344 Kristin Peterson 38:53:00
345 Zina Brangman 38:57:00
346 Jacqui Croft 39:01:00
347 Shelley Lewis 39:39:00
348 Vernell Brown 39:49:00
349 Nicola Robertson 40:10:00
350 Tammy Boss 40:58:00
351 Orchid Morrison 41:34:00
352 Elizna Erasmus 41:37:00
353 Beth Bailey 41:45:00
354 Siobhan Rose 41:45:00
355 Remola Hurricharan 41:54:00
356 Angela Young 42:04:00
357 Lorriann Lemaire 42:25:00
358 Kathryn Massa 42:29:00
359 Chantelle Kucharik 43:01:00
360 Carla Richardson 43:05:00
361 Tiffany Sousa 43:05:00
362 Diana Boyland 43:17:00
363 Charmaine Smith 43:17:00
364 Fiona Loveland 43:23:00
365 Annette Cook 43:56:00
366 Charlene Brown 44:10:00
367 Cammie Simmons 44:18:00
368 Hilary Carr 48:43:00
369 Joanne MacFarlane 48:43:00
370 Karen Delapp 49:52:00
371 Terry Burgess 54:08:00
372 Clydelle Brangman 55:49:00
Junior 2k Results
1 Ashley Irby 6:42
2 Lynsey Palmer 6:43
3 Paige Bruton 7:02
4 Azeire Smith 7:10
5 Emma Harvey 7:10
6 Alyssa Rowse 7:15
7 Laura Hope 7:23
8 Anasia Barclay 7:24
9 Selah Tuzo 7:26
10 Jessie Marshall 7:36
11 Rebecca Harrison 7:39
12 Gianna Webbe 7:53
13 Holly Bruton 7:54
14 Jade Johnston 7:58
15 Aaliyah Simons 7:58
16 Tilda Norman 8:00
17 Jessica Bruton 8:01
18 Symira Lowe 8:09
19 Jezhari Talbot 8:14
20 Kerry Palmer 8:17
21 Che'-chulae' Dowling 8:20
22 Attiyah Morris 8:25
23 Jessyka Haak 8:28
24 Amali Smith 8:34
25 Brijette Basden 8:35
26 Kinae' Dowling 8:37
27 Janai-Annquaish James 8:40
28 Isabella Benson 8:41
29 Lauren Mendes 8:42
30 Majestic Butterfield 8:44
31 Anna Francoeur 8:56
32 Zantae Dill 9:02
33 Taylor White 9:04
34 Brianna Mawer 9:12
35 Alexandra Clare 9:13
36 Anna Marcotte 9:13
37 Eden Robinson 9:14
38 Trinity Wilson 9:20
39 Lindsay Smith 9:24
40 Shania Haak 9:24
41 Kaylin Davy 9:30
42 Lindsay Mawer 9:30
43 Amber Simons 9:35
44 Hannah Deacon 9:36
45 Natalie Lightbourne 9:38
46 Kaylee Lema 9:39
47 Katelynn Demoura 9:41
48 Taquira Simmons 9:43
49 Kaishae Matthews 9:45
50 Kyon Parfitt 9:47
51 Akim Johnston 9:47
52 Samaria Tatem 9:47
53 Kyrah McRae 9:48
54 Samai Dunn 9:50
55 Zoe Hasselkuss 9:53
56 Courtney Bromby 9:56
57 Dionee Trott 10:00
58 Stefanie Francis 10:01
59 Dennika Smith 10:02
60 Celia Harris 10:05
61 Diauri Richardson 10:06
62 Eilidh Redmond 10:07
63 Kerry Tear 10:09
64 Tayla Horan 10:10
65 Eliza Withers-Clarke 10:11
66 Kalia Anderson 10:12
67 Megan Hands 10:20
68 Kyra Kucharik 10:26
69 Liana Medeiros 10:27
70 Aarica Smith 10:42
71 Grace Francoeur 10:45
72 Cree Dunn 10:57
73 Linnea Kuruvilla 11:07
74 Sahai Latham 11:16
75 Mya-Alexis Santucci 11:28
76 Danielle Wall 11:28
77 Teshney York 11:37
78 Monique Waite 11:42
79 Candyce Martins 11:42
80 Maya Malpas 11:46
81 Holly Wakely 11:48
82 Asrael Basden 12:27
83 Sarah Francoeur 12:37
84 Lauren Dietz 12:44
85 Tiffanelle Pitcher-Francis 13:09
86 Garzayah Pitcher-Francis 13:09
87 Tizzamaya Pitcher-Francis 13:10
88 Marie. S Smith 13:12
89 Matilda Manders 13:48
90 Francesca Morrison 13:49
91 Chris Smith 14:41
92 Ja-Kayla Saunders 15:28
93 Udoric Henry 15:31
94 Riley Jackson 15:52
95 Jahstice Grant 17:01
96 Selah Reid 19:57
97 Carlayah Simmons 20:01
98 Ayahne Simmons 20:30
99 Mary Burchall 20:37
Walker Results:
1 Winnelle Simons 34:47:00
2 Davina Dickinson 34:52:00
3 Sheena Young 35:31:00
4 Annette Eve 36:32:00
5 Mhairi Donaldson 36:37:00
6 Tori Powell 37:25:00
7 Rodericka Freeman 38:08:00
8 Gilda Cann 38:13:00
9 Oonagh Vaucrosson 38:16:00
10 Linda Cox 39:24:00
11 Jane Hope 39:38:00
12 Gina Bradshaw 40:11:00
13 Janine Ratteray Shakir 40:34:00
14 Donyale Ackah Eversley 40:45:00
15 Makese Gilbert 40:45:00
16 Keeva Douglas 40:53:00
17 Eliza Riker 40:55:00
18 Barbara Fullerton 40:59:00
19 Nancy Wong 41:14:00
20 Patrice Blue-Williams 41:41:00
21 Julita Peniston 41:49:00
22 Jennifer Mancell 42:13:00
23 Sheena Trott 42:13:00
24 Pamela Mahoney 42:53:00
25 Patricia Daniels 43:35:00
26 Misheal Hughes 44:40:00
27 Val Cheape 45:20:00
28 Zharia Bean 45:25:00
29 Sherry Chadwick 46:47:00
30 Maureen Murray 46:47:00
31 Liz Starr 46:50:00
32 Jennifer Caulder 47:19:00
33 Sonia Rymon-Lipinski 47:20:00
34 Kathy Highe 47:41:00
35 Sherry Sargent 47:41:00
36 Tate Crofts 47:44:00
37 Sue Crofts 47:44:00
38 Roberta Alvarez 47:47:00
39 Michele Shapard 47:51:00
40 Theresa Hughes 49:01:00
41 Charlita Saltus 49:02:00
42 Irmgard Ong-Aban 49:10:00
43 Sabriyya Harvey 49:34:00
44 S. Jolene Caldwell 49:43:00
45 Pamela Burch 50:10:00
46 Loida Ratteray 50:12:00
47 Gabriela Ratteray 50:12:00
48 Diane Simpson 50:14:00
49 Rochelle Smith 50:50:00
50 Elizabeth Christopher 50:54:00
51 Clara Fay 51:47:00
52 Natalie Bruce 58:11:00
53 Ubon Bezant 1:00:35
Related Posts