[Updated: The BDOT has responded, and also replaced the photo]
A photo from the Bermuda Department of Tourism's website was posted on the PS Disaster website yesterday [Oct 4], with the website's readers offering mixed views on whether it truly qualifies as a 'disaster' or not.
The website highlights errors made when photoshopping [editing] photos, and is quite popular with the design and tech community.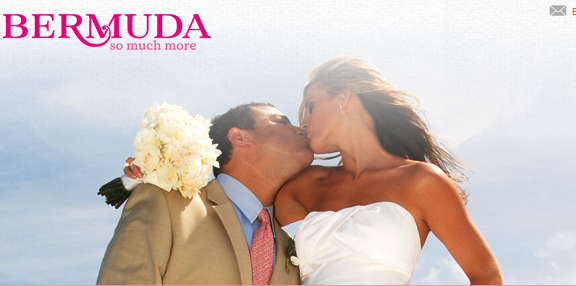 "Um, not seeing the problem here. Can someone please clue me in?," said one reader while another said: "And what exactly is supposed to be wrong with this picture? I can't find anything."
Another reader disagreed with the two above saying: "Are you people totally blind? Look at her right shoulder. Follow it down to where her arm is between her and her groom. Do you not see how it is chopped off and sky is visible where the stump comes in contact with her right breast and his left shoulder? That whole area is a total mess! If this isn't a PSD then I need to change my meds."
You can read the article here on PSdisasters.com.
Update 4.18pm: The BDOT issued a statement in response, it follows in full below:
The Bermuda Department of Tourism would like to thank Bernews for bringing this photo to our attention. In March, 2010 the Department was looking for wedding pictures and local photographer Bruce Leseur was kind enough to give us this particular photo.

The photo has been on our website from that time. Our current advertising agent Fuseideas has taken corrective action to replace the photograph and will work to ensure such an oversight, featuring any distorted images, does not reoccur.
We just contacted Mr Leseur, a veteran local photographer, and he said he can "assure" us he did not use photoshop on the photo he supplied.
He had not looked at Bernews since we posted the photo today, so could not confirm if it was the same one he supplied. Mr Leseur was actually en route to a photo shoot when we spoke to him, so we could not get into detail but we hope to update later with his full comments.
The BDOT have also promptly replaced the image on the website. The image on the left was the website at 12 noon today, and the image on the right is as of 4pm. The images will enlarge if clicked.
Update Oct 6: A social media post from Tourism Minister Wayne Furbert said the photo has been on the BDOT website since March 2010, and "Fuseideas was not responsible for this, hence none of the funds we have given them to advertise was used for this."
Related Posts