Bermuda Hospitality Institute's fundraiser, "Bermuda's Rising Chef of the Year Competition" will include three young competitors in the line-up, all trained through the Bermuda College's Culinary Program.
Two graduates of the program and one student currently enrolled will test their skills against 12 other chefs for the title.
"We are proud of Chefs Daaiman Simmons and Ryan Lampano, and intern Chef Kelly Simons and look forward to seeing them put their education and experience to work," said Karla Lacey, BHI CEO. They join a group of competitors representing a myriad of cultures and countries, all sharing their love of culinary arts.
Bermudian Daaiman Simmons is Chef de Partie at The Reefs Club, Ryan Lampano, a graduate of The Berkeley Institute, is Commis de Cuisine at Cambridge Beaches, while current Culinary Student Kelly Simons is an intern at Cambridge Beaches. To view video profiles of all competing Chefs, visit www.BHI.bm.
"This event has been created to promote the talent and dedication of Bermuda's culinary professionals," said Karla Lacey, BHI CEO.
"We are thankful for the support of our major sponsors, Butterfield & Vallis, Lindo's Family Foods & Gosling's Limited, their support ensures 100% of the proceeds benefit raised fund BHI's educational Hospitality programs."
Hosted by International Imports, the Semi-Final Cook-Off Rounds are on November 1st, 2nd, 5th & 6th. Three competitors vie each night for the opportunity to take part in the final round on November 9th.
Dishes will be judged based on taste, presentation, originality in the use of ingredients and work ethic by a panel of judges. The top chef will win the title of 'Bermuda's Rising Chef of the Year'!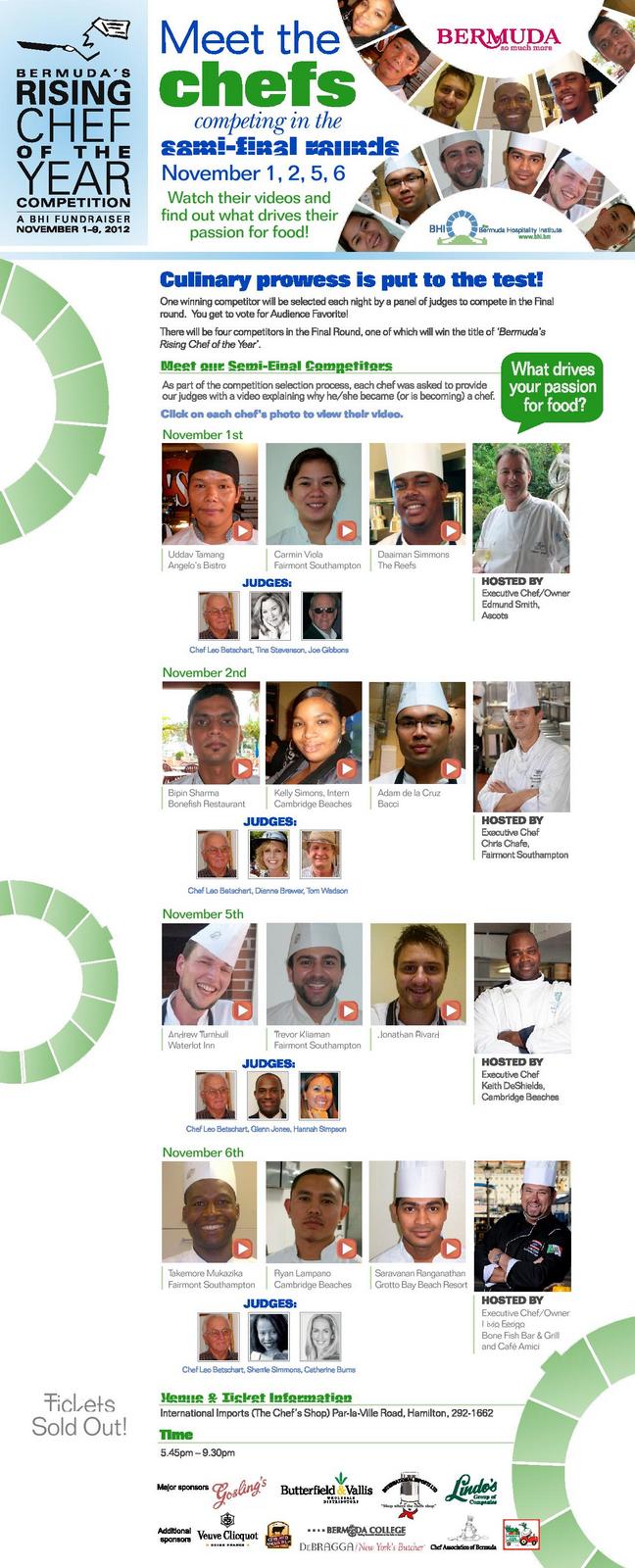 Related Posts
Category: All, Entertainment