When a fire broke out in a residence on Tills Hill earlier this year, Ms Andrene Bean and her family lost all of their belongings in the blaze.
Upon hearing the news,  Kristy "Miss Thang" Burgess started a fundraising drive to assist the affected family on her "Keeping it Real" radio broadcast. Yesterday [Oct 11] Ms Burgess presented a $2,000 check to Ms Bean bringing donations to the victim's family to a total value of $9,000.
Ms Burgess said, "I have been raising funds for Ms. Bean and her family through my charity account at HSBC under The Phenomenal Women's Association.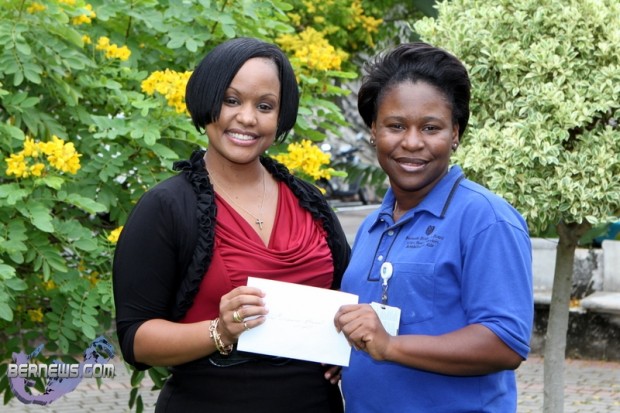 "This all started when her house caught on fire at her Tills Hill residence which caused her to lose everything! I started this drive immediately hearing the news while I was on air then at HOTT 1075. Even though I am not on air at this time, I was determined to see the project through.
"Through out this entire ordeal the response from the community has been overwhelming. To date, the Phenomenal Women's Association have been able to bless Ms. Bean and her family with a combined donation of $7000, which consists of grocery vouchers, clothing and monetary donation from individuals in the community, who have simultaneously donated through the charity."
Fire victim Ms Bean said, "I believe that through all the things we are going through in Bermuda, there are still kind and trustworthy people here. In fact I know this because my family and I have seen the generosity and out pour of love by the hands of Bermudians and for that we are grateful."
Ms Burgess went on to say, "Whenever a tragedy strikes, you can always count on some parts of our community coming together to make a difference in the lives of others and at that moment, I am proud to be a Bermudian".
"The Phenomenal Women's Association have been in existence since 2007. Our philosophy comes from Sir Winston Churchill, "We make a living by what we get but we make a life by what we give". To contact the charity, email phenomenal-lady@hotmail.com."
Related Posts