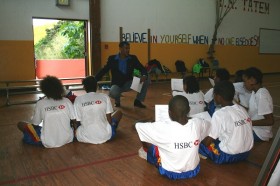 Brazilian Football School [BBFS] has launched the third Lifeskills Programme sponsored by HSBC Bermuda. T.N. Tatem Middle School is the third school to adopt the Programme. Since 2010, sixty middle school students ages 11-14 have successfully completed the Programme with an additional 48 middle school students entering the Programme this school year.
The Programme is based on addressing, at a key stage in young people's lives, positive lifestyles and healthy decisions. The students participate in 55-60 minutes of football training followed by a 20 minute lifeskills session which focuses on anti gang, drug and bullying messages, money management, SAT awareness, safe usage of social networking and future career and further education interests.
BBFS CEO, Cal Blankendal stated, "Thanks to HSBC Bermuda's sponsorship, Coach Dennis Brown (President and co-founder), Coach Jahmeko Harvey-Outerbridge and Assistant Germaine Smith, provide this important complementary offering to our youth.
"We are now able to offer the Programme at Whitney, Dellwood and most recently, T.N.Tatem Middle School. The football training and lifeskills sessions are offered at no cost to participants and allow students an opportunity to foster a positive lifestyle in a safe and fun after school environment."
Neville Grant, HSBC Bermuda senior manager, congratulates the BBFS for addressing a need in our community. "Young people require a structured, disciplined environment in which to develop positive character traits that are not only expected on the field of play, but in the classrooms and in our society."
In addition to funding the Programme, HSBC Bermuda staff deliver life skills presentations to students. Khari Sharrieff, Business Product Manager at HSBC Bermuda talks to students about the importance of teamwork and discipline and how these skills, learned on the football field, carry over to the workplace. HSBC Bermuda will also introduce the importance of money management and savings.
Read More About