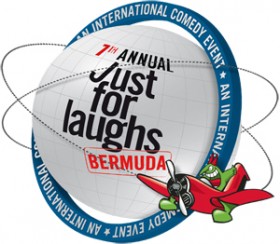 The annual comedy event Just For Laughs is tickled pink to return to Bermuda once again in the New Year. This 7th annual edition brings us the comedy stylings of quirky Canuck Mark Forward, animated Yankee Orny Adams, and Scottish superstar Danny Bhoy, along with host Alonzo Bodden.
Alonzo Bodden is a man who needs no introduction in Bermuda. Last year, not only did he have everyone in stitches when he hosted the multi-comic shows at the Fairmont, but he also brought down the house during his solo show at City Hall. These days, when he's not touring and performing at Festivals, you can catch him hosting his new weekly podcast Who's Paying Attention? where he gives his take on what's going on in the world. This year, he will return to share the stage with Danny Bhoy for Double Threat at City Hall, where both comedians will perform extended sets. Different material will be presented for the shows at the Fairmont Southampton.
Just For Laughs veteran Danny Bhoy has regularly been the top-selling box office comedian in his hometown of Edinburgh, and breaks box office records worldwide. In 2007 and 2011, he returned to Montreal's Just For Laughs Festival for the rare accolade of performing a 10-night solo run which completely sold out – twice. Danny's hour-long Comedy Central special, which aired in the US and Canada in 2010, coincided with his first solo tour across North America. His recent time in the USA and Canada also resulted in a highly coveted spot on the Late Show with David Letterman.
Orny Adams first rose to international prominence after co-starring in Jerry Seinfeld's documentary Comedian. He has numerous television credits to his name, including several appearances on The Tonight Show with Jay Leno and The Late Show with David Letterman. In 2000, Orny made quite an impact at the Montreal Just For Laughs Festival, which resulted in a development deal with Warner Brothers Studio, and his appearance on Letterman.
He returned to the Festival in 2010, appearing on a filmed television special hosted by Steve Martin, garnering rave reviews for his performance and being called a "stand-out act" by The Hollywood Reporter. He returned to destroy once again at last year's Festival in Montreal, performing on a whopping 16 shows. He has twice written for the Annual Emmys Broadcast, and, in addition to his critically acclaimed debut comedy DVD/CD Path Of Most Resistance, just recently released a poignant one-hour Comedy Central special, Orny Adams Takes The Third.
Category: All, Entertainment