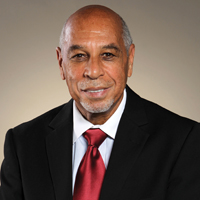 Although an official press conference has not yet been held to formally introduce Ed Bailey or Glen Smith as OBA candidates, the OBA has recently updated their website and lists both gentlemen as candidates.
Mr Bailey [pictured] is listed as the candidate for C#34 Sandys South Central candidate, where he is known to have been canvassing for some time.
He will match up against Attorney General Kim Wilson, as the PLP has already confirmed Ms Wilson as their candidate. Mr Bailey, a former UBP MP, previously contested this seat under the UBP's banner.
The incumbent is veteran politician Walter Lister, who is retiring from politics. In the 2007 General Election, Mr Lister won 69.26% [649-284] of the vote vs the UBP's Sarah Burrows. In 2003, Mr Lister won with 66.59% of the vote against Ed Bailey [UBP] who received 28.72%.
Mr Bailey — a resident of Sandys parish — served in the Bermuda Police Service for 14 years and achieved the rank of Inspector. He was then called to the Bermuda Bar as a lawyer and now owns his own law firm, and currently, he sits as an Acting Magistrate in the lower courts.
The OBA has also not officially rolled out their candidate for C#14 Devonshire North West, however their website lists former Deputy Mayor of Hamilton Glen Smith as the candidate for the area. Mr Smith has been actively canvassing the area for over six months.
The PLP has not yet formally confirmed their candidate for C#14 however Paula Cox has held the seat for 16 years – winning it in a 1996 bye-election. In the 2007 General Election, Ms Cox won 69.59% of the vote vs the UBP's Alan Marshall [492-215]. In 2003, Ms Cox won 74.27% of the vote against Christian Dunleavy [UBP].
The only candidate of the 36 constituencies the OBA website does not list is that for C#20 Pembroke South West, which is presently held by the OBA's Louise Jackson, who is retiring. Widely considered a safe seat for the Opposition, Mrs Jackson won over 80% of the vote in the last two General Elections.
Read More About