'Daddy and I Explore…The Caves!' — The fifth title in the Daddy and I Explore children's book series — launched yesterday [Nov 7] in the presence of Gilbert Institute students.
Author David Chapman said: "Daddy & I Explore…The Caves! will bring the fascinating and mysterious environment of Bermuda's critically important and internationally renowned cave habitats to the island's young people by exposing them to the intriguing but often mysterious flora, fauna and environmental conditions found within these locales."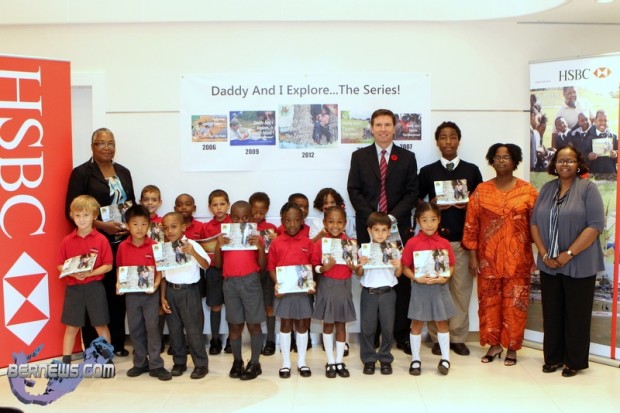 Mr Chapman's daughter, Zen Chapman, who is featured in the book, hosted her classmates for a reading by Jahmali Bridgewater, Berkeley Institute student, author of Growing Green and 2008 United Nations Environment Programme. Mr Chapman's mother Laverne Furbert was also present to support the event.
With HSBC Bermuda's support this title will be distributed to local public and private primary schools [Primary 4 year]. Daddy and I Explore…The Caves! is intended as both an in-school resource and for at home reading, suitable for local children under 10 to understand Bermuda's unique and internationally renowned cave habitats.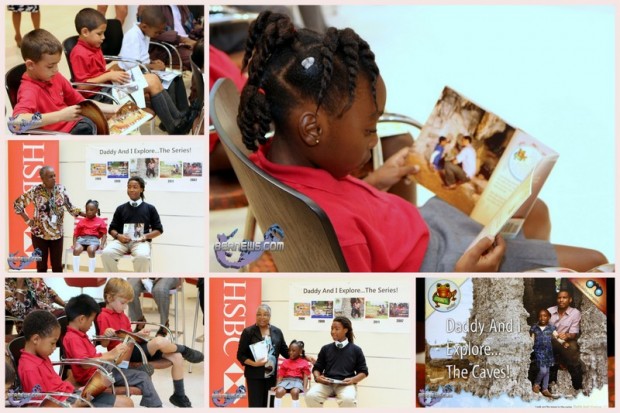 "HSBC Bermuda has supported all Daddy & I Explore…! children's book series to encourage literacy while teaching our children about their Island surroundings and the importance of preserving it," stated Blake Hellam, HSBC Bermuda Head of Retail Banking Wealth Management.
"The books are not just stories that demonstrate valuable opportunities for parents to spend quality time with their children. The titles are also designed to be valuable field guides and have been integrated as a science and literacy resource in all local primary schools."
HSBC Bermuda sponsors the publication of the book and an estimated 800 free copies of each publication are distributed to local school children. HSBC Bermuda has supported four books in the series, "The Mangroves", "Nonsuch Island", "The Farm" and the most recent publication "Daddy and I Explore….. The Caves".
Click to enlarge photos:
Read More About