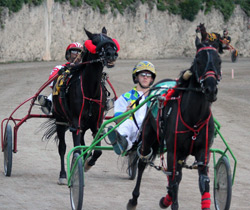 In Harness Pony Racing at the National Equestrian Center on Vesey Street yesterday [Nov 3], Steve Cardoza in the bike of Final Notice won Heat 2 the 1:07/2 to 1:08/2 Time Bar clocking 1:10/1, Crown's Jewel with Kirista Rabain in the bike finished second clocking 1:10/2, Brona's Blaze and Isaiah Tavares finished third clocking a time of 1:10/4 and Stay Tuned with Kevin Sousa in the bike finished 4th with a time of 1:11 flat.
Black and Mild with CJ Whited in the bike won Heat 3 the 1:05 to 1:06 Time Bar clocking 1:07 flat, Fantastic Five with John Flood in the bike finished second with a time of 1:07/2, Captain Chaos and Maurice Raynor finished third with a time 1:08 flat and Pastor Paul with Tyler Lopes in the bike finished fourth clocking 1:09 flat.
The full results are here [PDF].
Read More About