Tokio Millennium Re made a significant donation to The Reading Clinic, Bermuda's only charity dedicated to enhancing the literacy and numeracy skills of children with learning difficulties. The Bermuda-based reinsurance company has become the lead sponsor of the Clinic's Core Reading Programme after presenting the Clinic with a cheque for $50,000.
The Core Reading Programme offers diagnostic assessments and tutoring for students with specific reading disabilities and, in 2011-12, delivered over 4,500 hours of tutoring to 79 reading students. The Programme is most effective with children who have a pattern of dyslexia – children who have strengths in some learning-related skills but struggle with reading and spelling due to difficulties working with the sounds in words.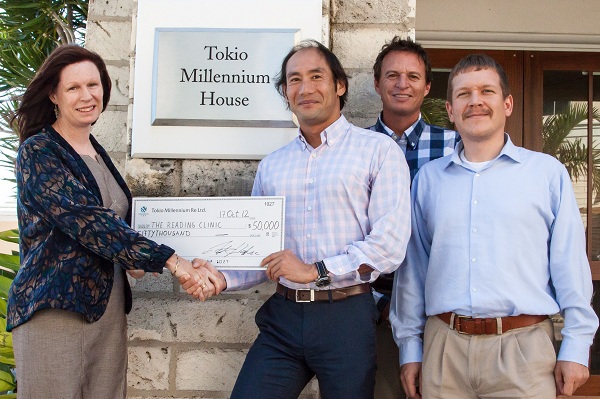 "Our primary goal is to support what we believe to be a key social problem," said Tatsuhiko Hoshina, CEO of Tokio Millennium Re Ltd. "We feel that there is a general lack of educational and community support for youth. As such, we are committed to combating this problem by facilitating the building of community support systems and creating educational opportunities for Bermuda's youth. Therefore we are very happy to be able to support The Reading Clinic in their work."
Dr. Julie Dunstan, Executive Director of The Reading Clinic, said: "We are extremely grateful for Tokio Millennium Re's generous support of gift to The Reading Clinic."
"Their sponsorship provides support for the critical quality control functions of tutor training and supervision, student observations, progress monitoring and annual student and programme evaluations.
"The Core Reading Programme is at the heart of who we are and plays a critical role in reducing the secondary effects of school failure for children with dyslexia. The earlier students enter the programme (i.e., P2 or P3), the more likely they are to be successful in learning to read and spell and to close the performance gap between themselves and their peers."
Tokio Millennium Re staff members have also shown their support for the Clinic, selecting it as their chosen charity at the Centre on Philanthropy's Give Back Games in September and raising $11,000. They also volunteered during the Clinic's recent Tag Day, helping to raise more than $13,000.
Read More About