The Bermuda Department of Tourism [BDOT] hosted 20 travel specialists from North America this past week for a Bermuda Briefing Tour. The specialists represented travel and tour agencies from the United States and Canada. They were here to learn more about our hotels and attractions and gain first–hand experience the Bermuda product.
Pictured in the photo along with the agents are Minister Wayne Furbert; Bushara Bushara, Newstead Belmont Hills; Michael Williams, Rosewood Tucker's Point; Chef Jean-Claude Garzia, David Dodwell Jr. and Earlston Dill and Robin Danes from BDOT.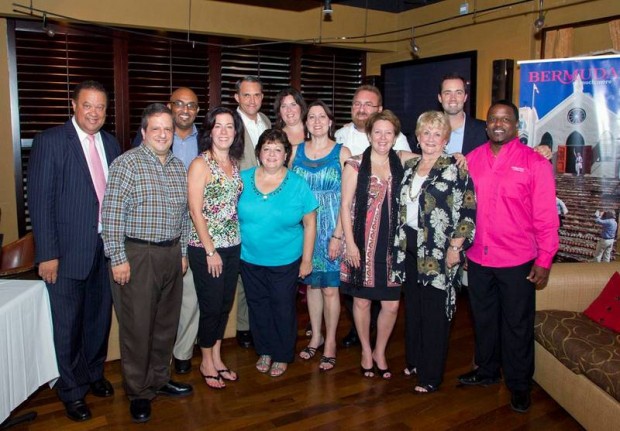 During the familiarization trip, specialists visited hotels to learn all there is to know about the properties on the island. Bermuda Hotel Association hosted site visits at The Reefs, Rosewood Tucker's Point, Rosedon, Coco Reefs, Newstead Belmont Hills, Pompano Beach, Grotto Bay Beach, Elbow Beach and Fairmont Southampton and Fairmont Hamilton Princess.
In between inspections of the properties, the groups had time to explore the island from the Royal Naval Dockyard to St George's and s were able to take in the island from a visitor's perspective.
Minister of Business Development and Tourism  Wayne Furbert said, "We organized this trip as part of a strategy to raise awareness and increase leisure travel business from the North American market.
"We are pleased to host these Bermuda Briefing Tours to our island, for we know, the best way to sell our island as the best vacation destination is to see, experience and sample the best of what Bermuda has to offer."
Read More About