Three of Bermuda's top track and field athletes have received a total of $15,000 in sponsorship from Bermuda HealthCare Services to help them strive towards their goals.
Tyrone Smith, Arantxa King, and Aaron Evans — who are all Bermuda National Record holders — each received $5,000 sponsorships from the company.
L-R: Dr Ewart Brown, Arantxa King, Aaron Evans, Tyrone Smith, Troy Douglas, Donna Watson: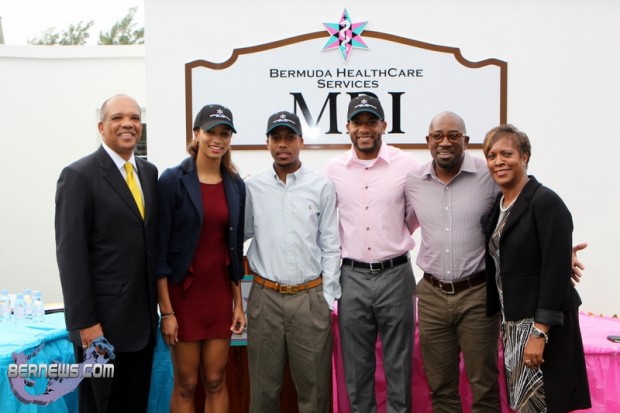 Tyrone Smith and Arantxa King are both two-time Olympians, having represented Bermuda in the long jump. They gave the island our two highest finishes at the 2012 London Olympics – finishing 12th and 13th. Aaron Evans is an 800m specialist, and all three athletes are considered very likely to qualify for the 2016 Rio Olympics.
Bermuda HealthCare Services Executive Chairman is former Premier Dr Ewart Brown, who is himself a former track & field athlete having represented Bermuda at the Commonwealth Games in the 400 meters and 1600 meter relay in his younger years.
At a press conference held today [Nov 19], Dr. Brown said he attended the 2012 Olympics which inspired him to want to help the development of Bermudian athletes.
All three athletes — who were flown in for the occasion — thanked Bermuda Healthcare Services for the sponsorship.
"One of the hardest things is to do is to be able to have the finances to be able to support yourself," said Tyrone Smith. "This is a tremendous, tremendous blessing to have and I am very excited to go into the next season with a little less stress on my mind and this is going to go a long way."
Read More About